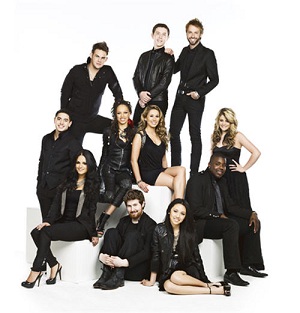 by Gina Scarpa
The Top 10 from this season's American Idol hit the road this past July for their summer tour, starting things off in Utah, and they'll finish up in a few weeks with a show in the Philippines. Idols Live made its way to Mohegan Sun Casino in Uncasville, CT this past weekend, and I headed to a packed arena to check out the show.
The show kicked off with the five girls (Lauren, Haley, Pia, Thea, and Naima) rocking a version of Lady Gaga's "Born This Way". Pia took the stage next to belt out "Empire State of Mind (Part 2)" and one of the highlights of the night, "California King Bed" by Stefano. Next up was Paul, doing one of his more well known Idol performances, "Maggie May". Thea gave a very cute rendition of "Who Says" and then the girls, minus Lauren, performed "Tightrope" by Janelle Monae.
Stefano was out on the stage next, with "Grenade" and "DJ Got Us Falling In Love Again". He belted out those high notes, danced a little, and even ripped off his shirt at the end, while thousands of female fans screamed in appreciation. When "Animal" by Neon Trees, the crowd amped up, thinking it was time for James to come out but were given Paul instead - and then, much to their delight, the rest of the guys (James, Stefano, Casey, and Jacob) minus Scotty appeared to sing together.
Naima energetically performed "On The Floor", complete with dancing, and then Pia returned to show off her first single, "This Time". Casey was up next with three songs; "Smooth", "Moanin'" with Haley, and "Harder To Breathe". We got all sides of Casey, his jazzy, musical side and his crazy, creepy sides but the fans loved it all. Things finished up with everyone (minus Scotty - don't worry, he gets his big moment later) singing "Forget You" before the group took a break for intermission.
The second act brought out the big guns to do their solos. Runner up Lauren made smart choices with "Flat On The Floor" and "If I Die Young" and her new single, "Like My Mother Does" almost brought me to tears. James Durbin brought down the house with "Sweet Child O' Mine" and "Uprising", and Jacob gave us some soul with "Never Too Much" and "You're All I Need To Get By" (with Pia, Naima, and Stefano backing him up).
Haley sang two fan favorites from season 10, "House of the Rising Sun" and "Bennie and the Jets". Finally came the big moment and after sitting around for two hours, winner Scotty McCreery finally took the stage. He performed five songs in his set - "Your Man", "Are You Gonna Kiss Me Or Not", his single "I Love You This Big", "When You Say Nothing At All" (with Lauren), and "Gone" (with Lauren, Thia, Pia, and Haley backing him up).
The entire group finished things up with a medley that had the crowd out of the seats and dancing and singing along to Whitesnake, Journey, and Aerosmith songs. There wasn't a disappointing moment and the tour did a great job of mixing songs you loved from the season with new material that you had yet to hear your favorites sing. That being said, the standouts were definitely Pia, James, Haley, Lauren, and Scotty.  Who was your favorite?

For more information on Idols Live, visit americanidol.com/tour
(Image courtesy of FOX)

Follow Gina @ginascarpa and "Like" her on Facebook! Check out Mohegan Sun @mohegansun and visit them at mohegansun.com.