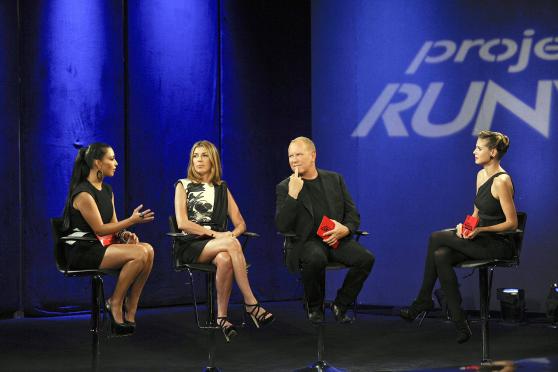 By Lindsay Strouse
It's a special night tonight on Project Runway, as we witnessed the first ever outdoor runway, done in front of a live crowd and the press. As if the gorgeous scenery wasn't enough to spark our attention, tonight's episode was chock full of surprises, larger-than-life-designs, drama and more drama.
The designers head down to meet a very tall Heidi (yes, even taller than usually) bright and early in the morning. Heidi walks down the runway bearing stilts - a hint to this weeks challenge. The remaining contestants are challenged to create a look that is "eye-catching, imaginative and truly larger than life." The designers are split into teams of two and must work together to dress their stilted models.
And the teams are...Burt and Viktor (not a happy couple). Anthony Ryan and Laura. Joshua M. and Julie. Danielle and Cecilia. Anya and Olivier. Kimberly and Becky. Bryce and Fallene. Now this should be interesting.
The teams are given one day to complete the challenge with a $500 budget to spend at Mood. After the initials sketches are drawn, the models enter with their stilts to provide some inspiration. I really like some of raw concepts I hear, so hopefully things will stay on the right track once the thread and scissors come out.
Once the teams head back to Parsons, everyone gets right to work. Tim lets them know they only have until 9:00pm to completely finish their garment-now that' s a challenge. As soon as he leaves the room, the claws come out with a vengeance. I'm talking to you Burt and Viktor. It's almost comical watching how much these two argue.
The dream team of this challenge is without a doubt Olivier and Anya, two of the top-runners so far. There's some playful teamwork between Joshua M. and Julie as well as between Anthony Ryan and Laura. It's actually uncomfortable to watch Kimberly and Becky work together, as their personalities clash as much as their fashion style.
Bryce worries about the fact Fallene has never gone to school for fashion. If she messes up, I bet they're going to blame the educated fashion designer as opposed to the self-taught one.
When Tim enters midday, the teams are at very different points in the design process. Tim loves Joshua M.'s Beetlejuice-esque pants and tells their team all the things they want to hear. Next, he must act as the mediator between a bickering Burt and Viktor. I don't know what needs more help: their relationship or their ghastly mess of a Victorian-styled costume. Tim reminds them they need to work as a team and urges them to put their differences aside.
Bryce is worried his and Fallene's black tutu is getting TOO big for life, which Tim agrees with. After leaving them with some constructive criticism, he gives mixed reviews to dream duo Olivier and Anya.
By the time the models return, stress is running high and tension is thick. Fallene realizes she cut her bodice off-grain, which ends up putting them really behind schedule. Bryce thinks her construction error is going to land them in the bottom once again and I wouldn't be surprised if that was the case. She's especially worried about the fact she didn't actually construct anything besides a hat.
The teams struggle to make finishing touches on their garments and send their models to hair and makeup before heading out for the first-ever outdoor runway fashion show.
As a very special treat, Kim Kardashian takes a break from working on the event of the century-her wedding-to guest judge on tonight's panel.
I wish I could have been there for the live performance, as some of the designs truly were breathtaking. Though not as impressive as they were expected to be, Olivier and Anya's combined scores were enough to get them through to the next round.
The judges wasted no time in announcing the top three teams of the night to be Anthony Ryan and Lauren, Danielle and Cecilia and Kimberly and Becky.
Anthony Ryan and Lauren dressed their lady in red with feathers and a simple, elegant silhouette. Danielle and Cecilia were complimented on their ready-to-wear look with a sheer teal blouse and perfectly tailored pants. The only downside to their overall look was the pumpkin-style hairdo placed on their model's head. Kimberly and Becky combined their strengths to create an edgy style with perfect construction.
Not surprisingly, Joshua and Julie, Burt and Viktor and Bryce and Fallene received the lowest scores for their designs.
Michael Kors hated the tackiness of Burt and Viktor's garment and Kim K. stated it looked like it was made out of curtains. Also not surprisingly, both designers were very quick to play the blame game. Heidi compared Bryce and Fallene's look to the Black Swan and all the judges were disappointed by the lack of effort displayed by the final product. The judges were also not impressed by Joshua and Julie's failed attempt at a Spanish matador styling. However, they did compliment the construction of the piece.
So who wins the challenge and who goes home? Heidi announces the winning team to be Anthony Ryan and Laura, with immunity going to Laura. The designer leaving us tonight is hairdresser turned designer, Fallene.
Be sure to check back tomorrow to read RealityWanted's interview with eliminated contestant Fallene Wells. 
Project Runway airs every Thursday at 9/8c on Lifetime.
(Image courtesy of Lifetime)
Follow Lindsay on Twitter @LindsayStrouse