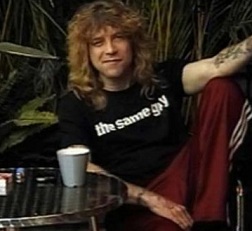 by Mike Bandy
On this week's episode of Celebrity Rehab, we got to see the outcome of the altercation between Jeremy and Amy's husband. If you remember, Amy's husband was upset with Jeremy for some negative comments that his sister made towards her. The police showed up, and in talking to Amy's husband, he denied that he threatened to kill Jeremy, but the police reviewed the footage of what he actually said, and that showed that he did indeed make a death threat. That's against California state law, and it was up to Jeremy's family whether or not they wanted to press charges, and they decided not to do that. After the police left, Jeremy approached Amy's husband to apologize, and then apologized to Amy as well.
The next day in process group, Dr. Drew talked about the altercation at the event the day before, and Michael said he was nervous for Jeremy. Jeremy said that his first instinct was to fight, but he's happy that he was able to apologize. Amy said that she felt hurt by what Jeremy said, and she said that she thought he was his friend, and Dr. Drew was upset by that - He wanted Amy to understand that Jeremy was still her friend, he just made a mistake.
Sean was having trouble understanding Amy's husband - he says that nobody disrespects his woman, but he allows her to do adult films. Dr. Drew says that it's gratifying to Amy to take on the victim role, and Amy said that she never thought about it that way. Dr. Drew wants her to start taking care of herself, rather than depending on her husband to take care of her.
Dr. Drew sat down with Amy alone to talk about how she was feeling after the traumatic events the day before, and she said that her husband talks to her like a mental patient. He tells her that she has a chemical imbalance, and makes her feel crazy. More on that in a moment.
Michael had also had an emotional experience with his ex, Kate Major. She has yet to enroll herself in rehab, and constantly calls and distracts Michael from his own treatment. It got to a point where Michael was discussing what kind of treatment Kate needed instead of focusing on himself. I thought that was a shame.
Amy and her husband had a meeting with Dr. Drew and Dr. John Sharp to talk about her progress, and to talk about changing her career. When meeting with Amy alone, she said that she feels she deserves pain, but when her husband came in, she teared up when faced with having to tell him that. He was very supportive of her, and said that he'll do anything he can to help her. He also expressed guilt about not being the breadwinner, and not being able to take care of her the way he feels he should. He talked about feeling helpless. It's clear that these two have issues in their marriage to work out as well, and I hope that they can make things work.
The next night, the patients were allowed to have visitors. Michael invited Kate, but he had been arguing with her over the phone the entire day. This concerned Dr. Drew, because Michael has a heart condition which, if triggered by stress, could kill him.
Unfortunately, stress seems inevitable for Michael. That night, as visitors were pouring in for the other patients, Michael got a call about Kate. She was on her way to the Center, and she was very upset because she saw a tabloid that showed Michael kissing another woman. He called and tried to explain to her that it was for a reality show, but she wouldn't hear it.

Michael was screaming at Kate on the phone, telling her that she was killing him, and that she should stop doing this to him. He was running through the Center, counselors in tow, kicking in doors and eventually making his way out into the parking lot to meet up with Kate.
When she arrived, the fight escalated to an all-out brawl. Kate called Michael a loser and said that his entire family hates him, and Michael told Kate that he's only with her for the sex and called her a prostitute. Dr. Drew showed up and told Michael that he had to get back inside the Center or risk being discharged.
Meanwhile, Kate was in the parking lot screaming and crying about Michael, and the cops showed up. They walked into the Center and arrested Michael, who insisted he hadn't done anything wrong. The door to the Administration room closed, and now we have to wait until next week to find out what happens.
Rehab is a very difficult thing for anybody to go through, and it seems like it's even harder for celebrities. I sincerely hope that all of the patients on Celebrity Rehab find peace from this experience, even though it hardly seems possible with the constant drama.
See you next week!
Celebrity Rehab airs Sundays at 9/8c on Vh1.
(Image courtesy of Vh1)