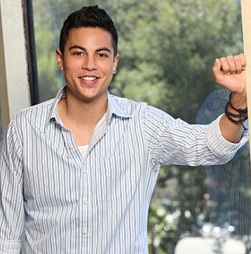 by Gina Scarpa
A player not afraid to make big moves and a physical threat in competitions, Dominic Briones could have been an interesting player this season on Big Brother. When word got out that there was a plan to backdoor Jeff and Jordan though, he took the fall for what actually was his alliance member Daniele's idea. Last night, he was almost unanimously voted out of the house and we spoke to him today in an exclusive interview about his Big Brother gameplay.
Q. Gina, RealityWanted: What was your main motivation for wanting to play Big Brother?
A. Dominic: I'm extremely competitive, I related to people well, and I make friends easily, so I felt like playing the Big Brother game would suit my personality and play to my strengths. And I sort of like $500,000!
Q. Gina, RealityWanted: You didn't have much choice, teaming up with Adam. What was his good and bad points as a partner?
A. Dominic: Adam's good points were that he made himself a big target and never knew when to stop talking. And he definitely got on some people's nerves so it made him a big target. His bad points were that he sucked at every competition and never helped me to get a victory at all. And never stopped camera talking.
Q. Gina, RealityWanted: The minute Keith was evicted first, did you realize that you were in trouble?
A. Dominic: Yes. The second Keith was evicted, I knew I couldn't trust the newbies at all and that the vets had control over us as a majority. So at that point, my back was against the wall and I had to turn to someone else to play with them as a partner.
Q. Gina, RealityWanted: Who were you really going to be loyal to in the game?
A. Dominic: Dani. I knew she had my back the whole time and trusted me 100%. And if I would have stayed in the house, I would have never turned against her.
Q. Gina, RealityWanted: Let's say that you had fought for the POV this week instead of thrown it, like Brendon and Rachel asked. Would you have won?
A. Dominic: Yes! I definitely would have won. The word I had in mind was "unconditionally" and I don't think those letters were too hard to find. So without a doubt, if I would have tried, I feel as though I would have won.
Q. Gina, RealityWanted:Your speech last night definitely felt like you were giving your last words in the game. When did you realize that you were the one that was definitely going?
A. Dominic: I knew yesterday morning when trying to rally votes that I needed Porsche's vote. She was the final vote to save me or send me home. I needed to rally the newbies together to go against the vets but I could read it in her face that she was too scared to go against them.
Q. Gina, RealityWanted: Who do you think is the biggest target in the house right now?
A. Dominic: Daniele, without a doubt, is the biggest target in the house. The vets are gunning for her 100% until she is gone and the newbies are still too scared to go agains the vets. So to make a deal, they would put her up as well.
Check out Dominic's RealityWanted profile here!

Find out who the new HOH nominates for eviction on Big Brother, Sunday at 8/7c on CBS.
(Image courtesy of CBS)

Follow Gina @ginascarpa and "Like" her on Facebook!