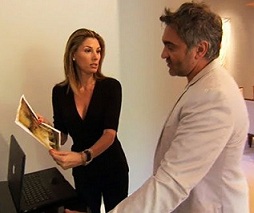 by Todd Betzold
We finally get to see more of Nathan on this week's Million Dollar Decorators.
Martyn continues his work with some major celebrities, as this week he is working with Daisy Fuentes is redecorating a room in her new home. She has some huge walls in her home, so he is going to incorporate an image of Cuba onto a wall that Daisy picked out...a big risk if she doesn't like it.
Meanwhile, Jeffrey starts work on a new seafood/casual restaurant he is designing for. The problem...he only has 10 weeks to complete it. We start to see the bickering between him and Ross, as Ross likes to dive right into a project and Jeffrey is the opposite and needs to sit back and take it all in and process it.
Martyn heads over to Warner Brothers to meet with an artist that will put the tiny image he has for Daisy's wall onto a huge screen. Working with the clients Martyn has, he definitely has to have some major contacts in the business and he does.
And we finally get to Nathan, who meets with Susan, the co-founder of the website One Kings Lane. They took a trip to India together to purchase furniture, textiles, etc. and now it is on it's way to them and they are going to have a huge sale on her website. So, in order to promote that sale, Nathan is throwing a huge party and they meet to discuss plans.
Kathryn continues her struggles with Shannon, as Shannon keeps emailing her regarding the sunroom she wants work done on. The sunroom is on the beach side of the house, which in order to build on the beach side you need permits and to get permits you need plans, which takes time and that is not something Kathryn has since Shannon wants to move-in in 6-8 weeks.
The bickering continues between Jeffrey and Ross, as they battle over the design of the restaurant and floor lamps and end tables. Ross wants design on paper so he can get quotes done and Jeffrey is keeping some information in his head for later. Drama, drama. Then, they bring it home as the arguing continues, but Jeffrey hides away in his butler pantry in order to process the design and process Ross.
Martyn purchases all the furniture and décor for the room and it has arrived at the house. The photograph gets pasted directly to the wall, not framed, and it turns out amazingly. The furniture is put in place and the room is complete.
Now, the arguing between Kathryn and Shannon hits a high, as they meet to discuss the plans, yet again. Kathryn states if the job is going to be done on time, she needs to bring in her own people. Shannon claims nothing is being done, but Kathryn says that is her excuse she is using to continue to be involved. Kathryn gets her friend Cindy to get on board and be the architect for the job, which calms Shannon down and everyone is happy.
Time for Martyn to reveal the room to Daisy and she absolutely loves it. It is exactly what she wanted, which means we will see more of her throughout the show to design the rest of her house.
We get a glimpse of Mary, as she comes over to help Nathan get ready for his party. Little bickering between them, but it is all in fun. The party is being shot for Elle Décor magazine, so Nathan wants everything to look perfect.
Kathryn meets with Cindy to go over the plans she has come up with. Everything is in order and permits have been gotten and build-ups are going through, so everything is back on track and Kathryn can head out to party.
The guests start arriving at Nathan's party and everyone from the show gets some screen time, except Martyn. Since the stuff from India is on its way over, this party is just to get people excited for the furniture for when it does arrive and they put it on the website.
Jeffrey and Ross continue their bickering at the party, so Jeffrey proceeds to check out cute guys and asks one of the servers if he would be his intern. Cute, but awkward moment. They get home from the party and decide to stop sulking and take a bath together. Jeffrey says sconces for the restaurant and the fight is settled, but Ross jokingly says until he changes his mind five minutes from now. Lover's quarrel done for now!
Million Dollar Decorators airs Tuesdays at 10/9c on Bravo.
(Image courtesy of Bravo)
Follow Todd @tbetzold