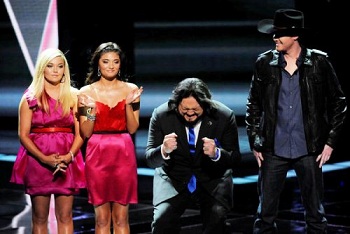 by Todd Betzold
We are cutting it down to eight tonight on The Voice.
We start out with results from last week's performances for Team CeeLo. After a look back at their performances, Carson Daly announces that America saved Vicci Martinez (makes me one happy guy).
Now it is time for CeeLo to choose his save. Some kind words for each singer, but in the end CeeLo uses his save on Nakia. Hugs go around for all! So, Vicci and Nakia for Team CeeLo.
They get right into the results for Team Adam, as we take a look back at last week's performances. After that, Carson announces that America has saved Javier Colon (you are so lucky America)!
Love for the remaining singers from Adam and says his friendship doesn't end here, but after saying he was planning on saving Jeff Jenkins, Adam has a change of heart and saves Casey Weston. So, for Team Adam it is Javier and Casey.
So, we get to the live semifinals and up first from Team Christina is Frenchie Davis, who steps out of her comfort zone and sings "Like a Prayer" by Madonna. She shows off her powerful voice and brings out the soul in this performance. Such a wide range she has and hits some major notes during that song.
The same side note as last week: the coaches all gave wonderful, loving, positive comments after each performance, so I'll save you from talking about that every time.
Up next, we get to see Nakia from Team CeeLo as he sings "What Do You Want From Me" by Adam Lambert. He starts out sitting and playing the piano, as the song starts out slow, but a great start for him. The song gets faster in the middle and he goes and works the stage and crowd and puts on a good performance...very entertaining.
For Team Blake, Dia Frampton sings "Losing My Religion" by R.E.M. She stands behind the microphone and plays her guitar, but this is a great performance. She has such a unique voice and tone. I loved it. She is different and is someone I can hear on the radio. She has a good range and vocals.
Making her way onto the stage for Team Adam, Casey Weston sings "I Will Always Love You." She looks beautiful as she hits the stage and does a good performance. She started out a little slow and rough, but hit it more as the song went on. She hits some big notes, but to me this is such a huge song it is hard to not think of Whitney Houston when you hear it.
After a performance by Adam with Maroon 5 and Christina, we see Beverly McClellan from Team Christina as she sings "The Thrill Is Gone" by B.B. King. The song starts out slow with Beverly sitting at the piano and she nails the beginning. We got to see a softer side of her and I enjoyed it. It picks up as the song goes on and Beverly shows her true side and works the stage...such stage presence for her. Two strong performances from Team Christina.
Next we get to see my favorite, Javier Colon, for Team Adam, as he sings "Fix You" by Coldplay. Following the theme of the night, the song starts out slower and he shows off his great vocals and range. The song picks up and we get to see a somewhat different side of Javier, including his hat coming off and showing off his bald head. At times, he seemed to be outplayed by the band, but he brings it in towards the end. A great performance by Javier, as expected.
Blake takes the stage and is eventually joined by his team, Dia and Xenia, as he sings his hit song "Honey Bee."
Hitting the stage next is sweet, little Xenia from Team Blake as she sings "The Man Who Can't Be Moved" by The Script. Now, I love this girl and I think she has a unique voice and it makes me smile to see her up on that stage and living a dream, but this performance was a little slow for me. She has good vocals and good range, but compared to others we have seen tonight, just not up there with them. I'm still happy for her!
Lastly on the stage tonight is Vicci Martinez for Team CeeLo singing "Dog Days Are Over" by Florence and the Machine. The tribal dancer comes out looking absolutely beautiful. She gets to beat on some sticks and some drums at the beginning as she belts out an amazing vocal performance. She gets let loose on the stage and runs all over, but the whole time singing amazing. She ends it back at the drums, but not before putting on, to me, the best performance of the night.
So, America votes and saves one person from each team to make it to the finals. We find out the results when The Voice airs Wednesday at 8/7c on NBC.
(Image courtesy of NBC)
Follow Todd @tbetzold