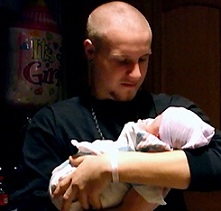 by Allie Giffes
On this week's episode of 16 and Pregnant: Taylor has dreams of going to college to become a nurse. Her and her mother have become closer ever since her father up and left. She met her boyfriend, Nathan, at a roller skating party - and now they're "inseparable." He also grew up without a father.
Taylor's mom was really upset when she found out that her daughter was pregnant. She got pregnant at seventeen, but decided to choose adoption for her first baby. Now, she worries that they won't be able to take care of Taylor's child and wants them to consider the same path that she chose for her first born. However, Taylor and Nathan don't want to abandon their baby, both having grown up without a father.
Nathan and Taylor decide to name their soon-to-be baby girl Aubri. Now that they know they're keeping her, it's time to figure out a long-term plan. Taylor is too young to legally get a job, so it will be up to Nathan to find work. Summer is almost over, and it will only be more difficult once school starts back up.
A few weeks later, Nathan still hasn't passed in one job application. Taylor is growing frustrated at the idea of their mothers paying for the baby and wonders if Nathan is really serious about being a dad. The situation is causing growing tension between the two teens.
Taylor is worried that she won't be able to stay in school and will have to resort to online classes, but she's determined to try her best. Taylor's mom wants her to start thinking about how she's going to manage her time in school once the baby comes. It might be easier for Taylor and Nathan to take online courses, but neither of them want to sacrifice their high school experience... probably should have thought of that before deciding to keep the baby.
Taylor ultimately decides to go with the online courses. She knows that it will benefit the baby most when she's born.
Five days after her due date, the doctors decide to induce her labor. She miraculously goes thirteen hours into labor without having being given an epidural. Shortly after, she gives birth to baby Aubri.
Aubri's first day home shows Nathan and Taylor that they have a lot to learn. In fact, the first week is incredibly stressful for them - as anyone would expect it to be. Taylor hasn't been getting any sleep, and Nathan hasn't been as supportive as she had hoped. He still doesn't even have a job. The one night Nathan sleeps over Taylor's to help her, he isn't much help at all. She was hoping that she could get some sleep, but Nathan isn't doing anything!
As time goes on, Taylor still isn't seeing any difference in Nathan's behavior. All he's doing is frustrating her and aggravating their situation. Taylor's mom overhears them fighting and has finally had enough. She decides to confront Nathan on her own. Nathan doesn't realize that he needs to be able to take care of the baby without asking Taylor to help him - after all, the reason she asks him to help is so that she can stay in bed and get some sleep.
Taylor decides to sit down with Nathan and try to resolve their issues in a calm and mature way. Nathan doesn't see how much their relationship is affecting her right now. She wants so badly for Aubri to have a father, but she's still worried that Nathan won't take the right steps to become a better dad.
Though Taylor has had to sacrifice a lot, she hopes for more good times than bad and lives with not regrets of having baby Aubri.
16 and Pregnant airs Tuesdays at 10/9c on MTV.
(Image courtesy of MTV)
Follow Allie @agiffes