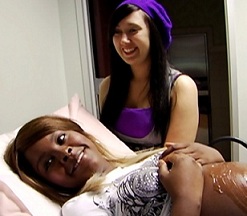 by Allie Giffes
On this week's episode of 16 and Pregnant: Kianna and her boyfriend, Zak, have only been together for two months but they're already having a baby together. Kianna's mom was furious when she found out that her daughter was pregnant; especially because she had Kianna at a young age as well, and raised her as a single mom. Kianna was originally planning on terminating the pregnancy, but is now considering adoption.
She only has two months to make a decision, but she knows the hardest part will be breaking the news to Zak because he's looking forward to being a father.
Zak is really against the idea of putting their baby boy up for adoption, but he's only 15 - he doesn't even have his driver's permit yet, and it'll be really difficult for him to find a job at such a young age. Kianna worries about making a decision without having his support.
With Kianna's due date quickly approaching, she really needs to make a decision soon. She and Zak come to the conclusion that they're going to try to raise their baby together. Now, she has to break the news to her mom. Her mom is worried about how they're going to support the baby financially; she will barely be able to help Kianna because she's not done paying off dotors' bills yet. She supports her decision, but she warns her that it will be extremely difficult - after all, she knows from experience!
Kianna's school has a "parenting" class for all the pregnant teens - so she has to take care of a fake baby for the day (but it cries just like a real baby!) It definitely opens Zak's eyes to how hard taking care of their new baby is going to be. Kianna just hopes he does a better job with their real son, who they've decided to name Kay'den.
At Kianna's next appointment, she finds out that she might be having some last minute complications. She is experiencing signs of "Preeclampsia," which is condition that causes swelling and affects the kidneys. For the next 24 hours, Kianna has to stay on bed rest and pee in a jug. If her urine tests positive, they have to induce labor.
The next day, the doctor calls her to let her know that her test results showed that she's still at risk for Preeclampsia, so the safest bet would be to induce her labor even though she's not due for another three weeks.
With her mom and Zak by her side, Kianna is given the drugs to jump start the process. However, after 17 painstaking hours Kianna still isn't dilated enough to give birth. The doctors decide to give Kianna a C section. The baby's blood pressure is dropping to a dangerous level, so to wait any longer would be putting him at high risk of not surviving the birth.
Despite all the complications, baby Kay'den is born into the world in surprisingly good health. After three days of recovery, she can finally return home with the baby. Zak has school and Kianna's mom has work, so she'll be home alone with Kay'den for her first day back home.
Kianna is struggling to take care of the baby on her own. She's falling behind in school and on sleep, but it's nothing that she didn't expect. She knows that if she's going to make it back to school, she's going to need Zak to be there for her more than he has been. She also doesn't know how long she'll be able to rely on her mom for support.
Kianna sits Zak down and tells him that she really needs his help. She hopes that this time, she can through to him. Kianna hopes that Zak will be able to be there more for her in the future - so he'll probably want to get a job and driver's permit ASAP.
16 and Pregnant airs Tuesdays at 10/9c on MTV.

(Image courtesy of MTV)
Follow Allie @agiffes