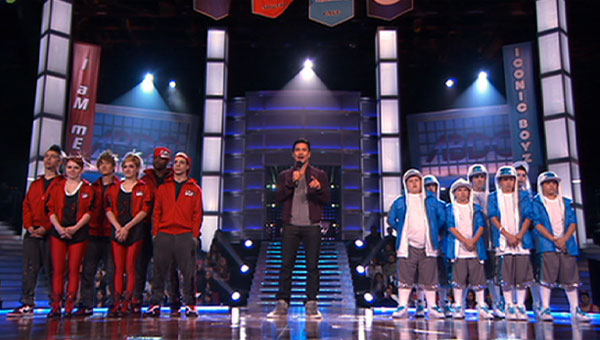 by Danae Young
This week on America's Best Dance Crew, ICONic Boyz and I aM mE are the final two in the ultimate battle before the finale. 
Both crews got a chance to redeem themselves in a performance the judges choose.
The judges asked to see I aM mE's performance to Rihanna's "S&M" again. JC Chasez liked that they expanded on the concept. Lil Mama said it is very tough to reinvent yourself and thought the routine was fun, clean and fresh. D-Trix could watch them over and over again. 
We got to see a behind the scenes glimpse of I aM mE. They said this show is very difficult both emotionally and physically, but they are now a stronger group because of it. 
ICONic Boyz was asked to redo their performance of "Baby" by Justin Bieber. Lil Mama said they definitely bring confidence, bravery and spunk to the show. D-Trix congratulated them for making their own name and thought they did a great job on the advanced choreography. JC Chasez gives them props for balancing more than the oter crews do because they also have their schoolwork. 
We also got to see a behind the scenes glimpse of ICONic Boyz. They have to wake up very early to get school done before the go off and rehearse the rest of the day, everyday, but they said it is all worth it to them. 
Next up was a three-round battle DJ'd by Swizz Beatz. The crews had three rounds to dominate the dance floor and prove to the judges and fans one last time why they deserve the title. 
Watch the finale of America's Best Dance Crew Sunday, June 5 at 7:30/6:30c on MTV.
(Image courtesy of MTV)
Follow Danae @danaeyoung