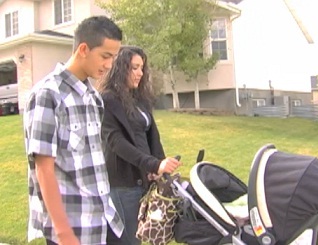 by Allie Giffes
On this week's episode of 16 and Pregnant: Izabella is a 16-year-old with devoted Catholic parents and big dreams of going to med school. Though she used to spend a lot of time with her friends, her boyfriend and future baby daddy, Jairo, has been monopolizing her time.
Izabella has been keeping her pregnancy a secret from her friends throughout the summer; but with her due date approaching in less than a month and school starting up again in two weeks, she doesn't know how much longer she'll be able to keep her situation hidden from the world.
Though she's excited about having the baby, she's tired of making up excuses as to why she can't hang out with her friends. She decides that it's time to tell her best friend, Cassidy, before it's too late. Luckily, she isn't upset with her for keeping the pregnancy a secret. Hopefully the rest of Izabella's friends will be just as understanding.
After telling Cassidy, Izabella's parents decide that it's time to start telling the rest of her family. Her uncle doesn't take the news so well, telling her that he's disappointed and wishes they would have told him sooner.
Since Izabella has been doing all of her assignments for school at home, her parents throw together a last minute baby shower so that she can see her friends before "Enrique" is born. She feels better that she no longer has to hide from her friends, but her parents admit that they feel as though they've failed. Now, Izabella feels like she has caused tension between her parents.
Izabella's doctor tells her that she will be induced at the end of the week. Her parents agree to let Jairo move in for a while once the baby is born. They're also going to send baby Enrique to day care during the day so that Izabella can go back to school.
Cassidy has been blowing Izabella off ever since the baby shower. She hasn't been answering her texts or forwarding her the assignments from school like she said she would. At a time when Izabella needs her best friend the most, Cassidy is acting extremely distant towards her.
It's finally Friday. Fourteen hours after she's given the drugs to induce labor, Izabella is ready to push. From then on, the rest of the delivery seems effortless - Enrique is born into the world. Now it's time for Jairo to start thinking about future college plans per Izabella's parents' request.
Jairo is thinking of attending community college for now while Izabella prepares to return to school as well. However, Izabella's opinionated uncle seems to think that Jairo should be working as opposed to going to school. Her parents would rather help them out financially for the next four years so that they can both earn bachelor's degrees and get a well-paying job in the future - makes a lot more sense to me.
Jairo and Izabella are going back to school, but her mother will be able to watch Enrique for the day. Izabella meets up with Cassidy before class to "clear the air," and she explains that she was hurt and just wishes Izabella had told her earlier. Luckily, the besties work things out and agree to put more effort into strengthening their relationship again.
Jairo is visibly upset after he gets back from the community college. Later that night, we find out that Jairo had been telling Izabella and her parents that he took online courses and graduated high school over the summer, but admits that he has been lying to them. Obviously, her parents are extremely disappointed and hurt.
Izabella's dad explains to her that he doesn't want Jairo to hold her back. If anything, he should be her support. She seems indifferent as to whether things work out with Jairo or not, but she wants things to be okay for the sake of having a family. If he doesn't get a job and take on more responsibilities, then he can no longer live with Izabella's family.
She hopes that her and her father giving Jairo an ultimatum will motivate him to take initiative, but if it doesn't, Izabella is prepared to move on with her life. She is fortunate enough to be blessed with supportive parents who are willing to be there for her unconditionally so that she can complete high school and make her new baby proud of his mother.

16 and Pregnant airs Tuesdays at 10/9c on MTV.
(Image courtesy of MTV)
Follow Allie @agiffes