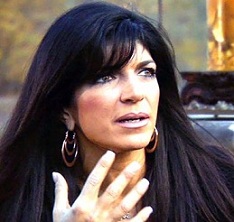 by Jessica Blackwell
This episode started out with the main housewives carving pumpkins for Halloween, which they say is a yearly tradition. Of course, they used this time to bring up the fight that happened on the last episode at Teresa's nephew's christening. Teresa still maintains that her brother's wife Melissa pushed them apart. Caroline realized that Melissa and Teresa will have to see each other at the POSH fashion show and tries to give Teresa advice on how to handle it.
Kathy (a.k.a the boring one) invites Melissa and her husband over for dinner. During this time Melissa expressed that Teresa and Joe dancing with her son is what sparked her annoyance at the event. I don't really see what the big deal is about that, but I guess tensions were running high. In that case, why were they invited? At this point, both sides admitted they haven't spoken to the other.
Kathy and Teresa go shopping at Kim D's shop where Melissa gets invited to walk at the fashion show with everyone else. Kim G materializes out of nowhere, and surprise surprise, stirs up drama. Every time I see this woman on the show she is talking crap about someone. I personally think she is trying to win her own spot on the show, otherwise I don't see a reason for her to interject herself into every scene that is filled with conflict.
The housewives seem to put away the drama for a bit to take their kids trick or treating. Melissa and Joe also went to an adult party, where Joe dressed as Snooki from Jersey Shore. He ended up looking like a mirror image of his sister Teresa, with hairy legs. They were joined by Kim squared, and Kathy revealed that she was weary of becoming friends with them.
Prior to the fashion show, both ladies used every opportunity they could to trash talk each other. Kathy decided that she needed to talk to Teresa, and the best place to do it would be in public, during the event.
The day finally arrives, and the scene starts with the ladies getting their hair and makeup done. When Caroline walked in, she spoke to Melissa a little bit too long for Teresa's taste, as she quickly flagged her down. All the ladies did well walking in the show, but Melissa especially shined in this area, which she was well aware of. She was more than happy to walk twice when asked. During Teresa's bow, Kim G asked her group of friends if they should boo her. I mean really, this a woman that is over 50.
After the show was over, Kathy decided it was time to speak to Teresa. As soon as they began talking, Teresa got defensive. Then Kathy brought up the fact that she protected Audriana from the fight, and Teresa began screaming "Don't go there Kat"! However, in the beginning of the episode she admitted that she didn't know where her kids were at the time. It seems that Teresa has a problem when she is told the truth. Caroline had to intervene in order to keep the drama under control, telling them not to handle their situation at the Brownstone.
I'm working very hard to figure out who is at fault, Teresa or Melissa for the rift between them. Right now, the jury is still out.
The Real Housewives of New Jersey airs Mondays at 10/9c on Bravo.
(Image courtesy of Bravo)