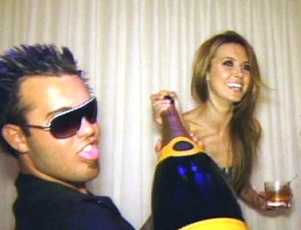 by Robin Hardwick
"Vegas and Bling"
We pick up right where we left off last time, with the pointless yelling and arguing between Lynn, Kyle, and Casey at the family dinner. Poor Kyle doesn't even say a word and he gets a tongue lashing from the manic Lynn. Casey storms out, claiming that Lynn will never get to see her kids. Casey interviews smugly on the driveway, saying that she is glad she married Kyle, who has a nice mother, like the mother she never had. She seems way too satisfied with this outcome, as if she went in looking for a fight, knew just how to push Lynn's buttons so she could dramatically storm out. I'm no family therapist, but to me this looks like a case of the jealous-of-attention-Audrina-gets syndrome.
Mark takes Lynn shopping for a ring to make her feel better. Why not just throw money at the problem? Lynn picks the gaudiest ring in the store, and eight carat monstrosity. Later, Audrina shops at an expensive boutique and drags Mark with her hoping they'll get a chance to talk about their family issues. This is just like The Hills- no one on that show could have an emotional conversation if they weren't picking through a designer clothes rack.
Meanwhile, Audrina's personal assistant is moving away. Audrina is bummed because they are also really good friends. Audrina claims she's had a really hard last few weeks, and she and Marky could use a break from all the drama and decides she's gonna take Marky and her Assistant to Vegas. Again, just throw money at the problem!
Cue your standard Vegas montage. Hotel Suites! Pure Nightclub! Stock footage of the Strip! Audrina just wants to kick back and relax, but Corey keeps "blowin' up" her phone. He's jealous because he thinks Audrina is out with other guys if she doesn't answer her phone right away. This is so ironic because Audrina left Orange County to get AWAY from the drama! But drama just has a way of finding her, I guess!
Back at home, Audrina and Marky meet their parents for dinner. I guess kid sis Sammi doesn't matter? Marky presents Lynn with the ring, and Lynn babbles incoherently for a while, and in her gushing, she does remember to thank her husband. Who, I may add, looks like a fourth grader in his interviews. He says that Lynn has been through a lot and this should cheer her up. When in doubt, throw money at the problem! That's how you do it Orange County style.
The purpose of the dinner: where should they go on their family vacation? Wait, haven't these folks traveled enough already? Audrina asks how they are going to do that without Casey. I'm going to go out on a limb here and say I have a feeling Casey will end up going with them and there will be drama.
Next week: the wrath of Corey.
Audrina airs Sundays at 10/9c on Vh1
(Image courtesy of Vh1)