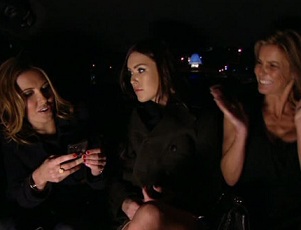 by Robin Hardwick
"War of the Patridges"
Audrina and her mother, Lynn, are still in New York. Casey left early because she was still mad that her mother told her she had "itty-bitty boobs." Audrina gets a sudden phone call inviting her to meet Donald Trump. They head to his office, and surprisingly, he's free and waiting for her. He tells her she's pretty and that she has an open invitation to do Celebrity Apprentice or judge the Ms. Universe pageant. Lynn practically throws herself at Trump and he kisses and hugs them both. Lynn gets hot flashes.
Later that day, she gets a call from Marie Claire inviting her to be in their feature. Wow, the cameras happened to be there when all these calls came in!
Back home, Lynn plans another family dinner, this time inviting Casey's husband Kyle. At their house, Kyle tattoos "Audrina" on Casey's arm, and they kvetch about how horrid Casey's mother is to her. Kyle can't understand it, because that is "not how he was raised." I'm not sure he is done being raised, because he looks about sixteen. Casey mentions that she is glad they are not taking the kids with them tonight. He then sticks his tongue down Casey's throat.
Lynn is prepping dinner and talking smack. She hates Kyle because he tries to isolate Casey so he is the center of her attention. Perhaps because...it's her husband? Just sayin'. Casey comes in pouting, ready to make herself a victim. Sammi comments that she likes Casey's hair color. "You're the first one that noticed", Casey brats. She then mentions that she and Kyle were asked to do a photo shoot for a tattoo magazine, and Lynn snots, "why would you want to do that?" but then asks if she can babysit Casey's daughter when they go. "maybe, yea" replies Casey. Mark so helpfully comments "maybe means no", and laughs.
Lynn goes bonkers and demands she see her granddaughter, and Casey revels in the fight, allowing her to say that she doesn't want her daughter around such negative energy. What is this fight even about? We won't have to wonder long, because this fight will extend into the next episode.
Audrina airs Sundays at 10/9c on Vh1
(Image courtesy of Vh1)