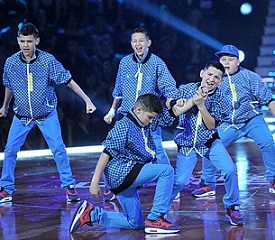 by Gina Scarpa
This week on America's Best Dance Crew, the six remaining crews battle it out to songs by R&B superstar Rihanna! The challenge this week will be incorporating her most challenging moves into their routines. To help out, Tanisha Scott, Rihanna's choreographer, is brought in to share her expertise.
The first crew to be named safe is Instant Noodles. They danced to "Hard" and their challenge move was the head top, which is essentially a head stand. I don't know how I feel about their outfits but as a crew, they seem to get better each week. D-Trix agreed, calling it their best performance of the season but Lil Mama said it was just good - not great. JC liked their transitions but felt they were a little sloppy at times.
On a side note, the way Mario says "Rihanna" is gonna drive me nuts...
ICONic Boyz was also announced safe, and 787 Crew found out that they were in the bottom two this week. The boys dance to "Only Girl In The World" and their challenge is to do a move called Give It A Run - kind of like the running man, but cooler. This week, they executed their challenge in a much more interesting way than last week's wall challenge debate. D-Trix felt they brought everything it takes to win. JC and Lil Mama also had nothing but positive feedback for them.
I aM mE is also safe this week and so is Street Kingdom. That leaves Phunk Phenomenon in the bottom two along with 787 Crew.
I aM mE performed to "S&M", with their challenge move being to pull off The Spiderman (moving your body in opposing ways). They started off with an awesome move that looked like one member was skating on top of the rest - they always have such interesting visuals! JC said that he likes everything about this group and called their performance "exceptional". Lil Mama says that the youth is on fire. The youngest female dancer, Olivia, is from this crew and she's only 15. Wow. D-Trix is blown away by their creativity.
Street Kingdom is given "Rude Boy" to dance to and their move is The Dutty Wine, which looks like a stripper whipping her hair around. Considering this crew is made up of mostly badass guys, I'm wondering how this is going to work. They're gonna have to bring the sexy this week and that they did. It was great to see that kind of diversity in their performance style. Lil Mama got choked up telling them that they represent the streets, which she loves. D-Trix thought Melissa, the crew's only female, was sexy as hell while JC found it a bit elementary in terms of choreography.
Time for Phunk Phenomenon and 787 Crew to face off to determine who will be back next week. Phunk Phenomenon is up first and perform to "Don't Stop The Music" and their challenge move is The Chaplin, which is a footwork move that they're all familiar with. Their dance was definitely high energy and a lot of fun. 787 Crew hits the stage right after to dance to "What's My Name" and pull off their challenge move, The Gallis Step. They have to basically shake all the way down to the ground, backwards. That's tough!! I don't know if it was the song or what but their dance seemed to lack a little momentum or excitement... until the backflips off the stage at the end, that is.
JC tells Phunk Phenomenon that they've exceeded his expectations week after week and he appreciates their heart.  Lil Mama thinks 787 Crew represents Puerto Rico well and doesn't want to see them go.  D-Trix loves that Phunk Phenomenon is great at everything and says they have no weaknesses.  He tells 787 Crew does a great job mixing their b-boy style with choreography and showing that they're all capable of great things.
After a commercial break, it's time for the results.  The crew leaving ABDC this week is... 787 Crew.  
America's Best Dance Crew airs Thursdays at 10/9c on MTV.
(Image courtesy of MTV)

Follow Gina @ginascarpa