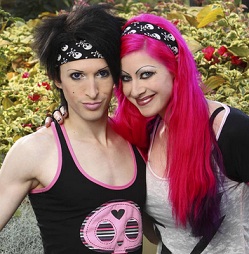 by Gina Scarpa
Last night, on The Amazing Race, Kent and Vyxsin were the last team to arrive at the check point in Switzerland. Their tasks included rescuing a stranded mountaineer and creating a chocolate Travelocity gnome. The pair should have had no problem making it to the next leg - until they didn't properly read their clue and took a taxi to the pit stop instead of walking. Their 30 minute penalty was enough to do them in and they were eliminated. Today, we spoke to the couple in an exclusive interview about their experiences on The Amazing Race: Unfinished Business.
Q. Gina, RealityWanted: Of all the teams on Unfinished Business, you came from a season that was earlier than the others. Were you surprised when you got the call to run the race for a second time?
A. Vyxsin: Yeah, we're old school racers. We're like, from way back in 2008. It's funny how this stuff works. They've been cranking out so many seasons. We were totally surprised. It was like lightning striking twice, but totally cool lightning. Kent took the call and didn't ask me. He was like, "We'll do it!" He knew that I'd be thrilled and of course, I was.
A. Kent: I felt like we were a good choice. We tried to leave an impression with the fans of the show and light things up and add something new. I'm honored that they brought us back.
Q. Gina, RealityWanted: Have you been following the show since your season? Were there teams on Unfinished Business that you were excited to see?
A. Vyxsin: The reason we applied is because we're huge fans first and foremost. We've seen every season. We were really excited to race with Margie and Luke and Mel and Mike. They were some of our favorite teams. The teams that were chosen were picked because they stood out, they were good racers, and interesting people. It was odd at the starting line with Phil with many people we had cheered for and now had to turn around and beat.
A. Kent: Standing at that starting line, I felt like I was at the Amazing Race Hall of Fame.
Q. Gina, RealityWanted: Given that you were eliminated in India during season 12, was that a stressful leg for you this time around?
A. Kent: India is a wonderful and beautiful place but it is a tough country to race in! It's colorful chaos in every direction. It did add extra pressure going into not one, but two legs this time. Each day we started out ripping up that clue thinking, "We've gotta make it through India and make it into a good memory." It felt so good to continue on and strive and excel. We did fairly well on both legs in India.
Q. Gina, RealityWanted: A lot of teams this season ganged up on the cowboys. Why did Jet and Cord stand out as the biggest threat?
A. Kent: I always respect the cowboys as great players and guys. We weren't a part of any ganging up efforts on them. We ran that leg on our own. Vyxsin was one of the few that solved the Lichtenstein measurement challenge on her own. The ultimate downfall for the cowboys was the U-Turn moment by the Globetrotters. They're respectable players who played the game well. I have even more respect for them now and I liked them beforehand.
Q. Gina, RealityWanted: Everything this time around, from the travel to the tasks to the length of the legs, seemed tougher and more intense. Did you feel that you were more stressed this time around?
A. Vyxsin: Oh, absolutely! There are teams usually that you know you can beat. This time, there were no teams that you'd be like, "For sure, I can do this better than those guys." Everyone, in a parallel universe, could've won their seasons. I think we were all chosen because we wanted it so much. I think we all came in with our eye on the prize, having been denied it once. The competition was fierce. I didn't think anybody knew it was going ot be as hardcore as it was.
A. Kent: Honestly, I felt more stress and more tension going in to this race for a second time. I felt more pressure the second time. The first time, everyone goes in with a blissful naivety. Everyone's like, "We can do it! We can win!" But once you race, you know how brutal it can really be. You know what the fatigue feels like. You know how bad the sting of elimination really hurts. Going in a second time, it felt harder.
Q. Gina, RealityWanted: Of course, the number one rule on The Amazing Race is read your clue. Easier said than done?
A. Vyxsin: I've gotta tell you - I'm sure we'll be answering that question until we're old and gray. Well, I'll never be gray! That's just one of those ones... unless you've ever experienced literal fatigue, you can't explain its symptoms to someone. We live in a country that's comfy cozy. A lot of people have never experienced dehydration or exhaustion. Anyone who has knows how disorienting it can be. I love to read! I read multiple books a week! I love reading, ever since childhood! My comprehension was not at its peak.
A. Kent: A good analogy that I often tell people is - think about a time in school when you were taking a very difficult test that you stayed up all night studying for. On one question, you mark B for an answer that you knew was A. Afterwards, you say, "Why did I mark B?" Think of that moment on speed on The Amazing Race. I was having multiple injuries at that point, too. I didn't have a chance to talk much about it on the show because I was hiding it. In the fifth leg, in the dinosaur challenge, when I fell off the ladder, I actually hairline cracked my third rib. I knew it wasn't good and I intentionally hid it from everyone because I didn't want to have to go and take a one or two hour trip to a hospital. It would've been instant elimination. Physically speaking, I'm a rock star. I finished the dinosaur challenge before the cowboys. After that leg, you'll see me struggling a lot more.
Q. Gina, RealityWanted: What's next for the two of you?
A. Vyxsin: I think we want to stay in California and do more reality. We like reality! As surreal as we are, we like reality. We enjoy getting to have a job where we get to be ourselves. That's such a blessing. We've gotten to do a lot of neat stuff since our first race. We've done some modeling and acting and traveling and appearances. We're just super duper grateful for everything that the race has done for us. As long as Kent is in my life, I know the adventure will never end. There's never a dull moment when he's your best pal.
A. Kent: We've had a great time. It's a total blessing. It's been life in the fast lane. Like Vyxsin said, we've been able to do a variety of things. Life's been good.

The Amazing Race: Unfinished Business airs Sundays at 8/7c on CBS.
(Image courtesy of CBS)

Follow Gina @ginascarpa