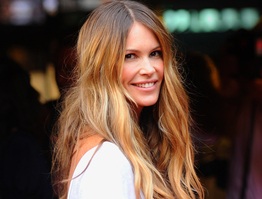 by Gina Scarpa
NBC has teamed up with reality producers Magical Elves (Top Chef, Project Runway) and supermodel Elle Macpherson for their newest reality show, Fashion Star. The show will be more than just another fashion reality competition. On Fashion Star, viewers will be able to buy the winning designs each week and the winner will walk away with a multi-million dollar contract to sell their line in America's largest retail stores.
In a press conference call today, creator Rick Ringbakk let everyone in on what they're looking for in terms of casting. "What we're looking for in terms of level of expertise is that we're looking at designers from all levels. It could be a designer who owns their own boutique. It could be a soccer mom who is secretly designing swimwear in her basement," he said. "In terms of the people themselves, we're looking for somebody who has something that is new, different, and that we want to see and we want to wear. A lot of fashion shows in the past have focused on clothes that very few of us would put on. We're looking for clothes that most Americans wear - denim, t-shirts, swimwear, lingerie, but they have to have their own unique take on it."
Host and executive producer Elle MacPherson cautioned people not to dismiss Fashion Star as another Project Runway. "This is something completely new. We haven't seen a show like this on American tv. It's not only about design. It's about brand, marketing, and business. That's what exciting to me. It's how you present it to America," she told reporters.
If you think you have what it takes to make it in the fashion world, head to one of these cities for your chance to be one of the twelve designers on Fashion Star - casting begins this week!
NEW YORK
Tuesday April 26
The Art Institute Of New York - The Gallery Room
11 Beach Street
New York, N.Y. 10013
4 p.m.-7 p.m.
ATLANTA
Tuesday, April 26
The Art Institute of Atlanta-Decatur- The Gallery Room One West Court Square, Suite 110 Decatur, Ga. 30030
1 p.m.- 4 p.m.
SEATTLE
Wednesday April 27
The Art Institute of Seattle / School of Fashion Room 509 2600 Alaskan Way Seattle, Wash. 98121
1 p.m. - 4 p.m.
CHICAGO
Monday May 2
The Illinois Institute of Art
350 N. Orleans Street
Chicago, Ill. 60654
5 p.m. - 8 p.m.
MIAMI
Monday May 2
Miami Art Institute- International University of Art & Design
1501 Biscayne Boulevard
Miami, Fla. 33132
1 p.m. - 4 p.m.
DALLAS
Monday May 2
The World Trade Center - Wade College
2050 Stemmons Freeway Suite 158
Dallas, Texas 75342
1 p.m. - 4 p.m.
Stay tuned to RealityWanted for more Fashion Star information, including season premiere dates, casting news, recaps, and more!
(Image courtesy of Getty Images)