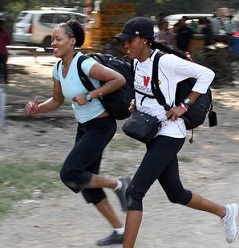 by Gina Scarpa
Tonight, on The Amazing Race, teams start at the Villa Trapp in Austria and travel by train to Liechtenstein. Bordered by Austria and Switzerland, the country's area is only a little over 60 miles. As teams get on their way, Gary and Mallory have that impending Speed Bump in the backs of their minds following their last place finish.
Once they arrive, teams travel by taxi to the border crossing at Schaanwald and encounter a Road Block. One team member must take a motorbike and an odometer and attempt to measure the area of Liechtenstein. They better not get it wrong because, if they do, they'll have to go back and try again.
Gary and Mallory hit their Speed Bump, where they have to create the proper mixture of gas and oil to power their Solex motorbike. They finish with a quickness and get on their way.
Jet and Flight Time go the wrong way at one point, Vyxsin feels lost, and Jen drops her map. Luckily, she teams up with Justin to find her way. They are the first to arrive with the correct answer of 22km! Jet arrives with the wrong answer and has to go back, which is bad news for his team, especially with a Double U-Turn coming. Justin helps out Flight Time and gives him the right answer to save him from having to back. Then, Flight Time passes that information on to Gary because it seems everyone is working against the cowboys. Vyxsin also gets it right, meaning Jet and Cord are far behind.
On his second try, Jet gets the correct answer and the cowboys move on. Next, teams travel by bus and train to the ski town of Zermatt, Switzerland and encounter a Detour - Cheeze or Wheeze. In Cheese, teams go to a restaurant where they have to consume a heaping pot of fondue (yum!). In Wheeze, teams have to bring 20 pieces of luggage from the train station to at least 5 different hotels and collect tags. Eating challenges always seem easier than they really are... anybody remember Quick and Easy meal from the last episode's Detour?
That pot of fondue is HUGE! There's no way anyone could eat that without ending up with a giant stomachache. Jen and Kisha bail out early to do the luggage, while Zev and Justin try to tough it out. Justin pukes outside but it's all worth it when they finish first. Meanwhile, everyone else opted for the luggage, including the cowboys who finally get back in the race.
Everyone needs to step it up and finish so they can head to their next destination: the fountain at Inderbinen Brunnen, where the Double U-Turn awaits them. If you're not U-Turned, you just proceed to Moos Restaurant, which is the pit stop for this leg. The problem is that because that's the case, anyone who knows they're in the front of the pack isn't going to U-Turn so it's highly possible at this point that only one team will get sent to complete the other side of the Detour.
Zev and Justin arrive at the pit stop first again and win a trip to the island of Curaco. Kisha and Jen arrive next, followed by Kent and Vyxsin and Gary and Mallory. The Globtetrotters seriously struggled through the Detour, mixing up their luggage and losing tags along the way. The cowboys worked to make up time but it's not enough.
The Globterotters arrive at the U-Turn first and use it on the cowboys, much as they didn't want to do it. Big Easy even said that the cowboys were one of his favorite teams ever but they wanted to secure their place in the race. The cowboys ate that cheese, even though they knew there was nothing they could do to change what was coming. They are the last team to arrive and are eliminated. Not happy about it...

The Amazing Race: Unfinished Business airs Sundays at 8/7c on CBS.
(Image courtesy of CBS)

Follow Gina @ginascarpa