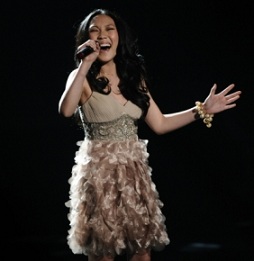 by Gabrielle Abrams
American Idol starts their top 12 girls competition with so much talent. The girls all sung their hearts out and sang for their lives on this show tonight. Only 5 of them will make it right through to the official Top 12. They were allowed to choose any song they wanted to perform for their performance tonight.
Here is the breakdown of the night.
Ta-Tynisa Wilson - "Only Girl (In the World)"
This was definitely a song performance to watch, but was not the best to start off the show. She was a little shaky and pitchy at the beginning but did bring it up at the end. She worked the crowd though and got a remarkable response. Randy stated that this was not her best performance.
Naima Adedapo - "Summertime"
She designed her own dress that she wore for tonight's performance. It was a very different dress but very beautiful in its unique design. She is a very strong singer with a lower voice than most of the contestants. She looks very comfortable onstage and that's a big thing in this competition. The last note in the song she hit perfectly and it was the best single note of the night.
Kendra Chantelle - "Impossible"
She was wearing a very tight outfit, but one that worked for her. She picked an amazing song for her voice and sang it beautifully. Jennifer told her that she had heart, and after that performance anyone could see that.
Rachel Zevita - "Criminal"
She strutted around the stage acting out the song to perfection. It was a very musical theatre performance, think Chicago. But this isn't the singer that she normally is and , as the judges pointed out, tonight was the night to show America what kind of a singer they want to be. But she looked like she was having a great time and she did sing it very well.
Karen Rodriguez - "Hero"
This was the perfect example of making a song their own. Karen took the song and went from English to Spanish throughout the performance and did it flawlessly. She looked gorgeous onstage and what came out of her mouth was just as brilliant. She certainly showed her range as well.
Lauren Turner - "Seven Day Fool"
She has a rougher voice than most of the other contestants but she can certainly work it. She has a blues and soul type of song singer as pointed out by Randy. The audience had a huge reaction to Lauren, giving her something to feed off of while performing.
Ashton Jones - "Love All Over Me"
She certainly has an amazing smile while she is performing and has such a great composure while onstage. She looks so natural and comfortable onstage gaining her the confidence that she portrays while singing. She picked a great song for her voice.
Julie Zorrilla - "Breakaway"
Let's be honest, you don't sing a Kelly Clarkson song on this show when it's your first time performing for votes. She sang it beautifully but not as good as the original. She also did not make the song her own and that did not make her stand out very much in a talented group.
Haley Reinhart -"Fallin'"
She certainly showed her attitude tonight and worked the song to her advantage. She showed off her unique voice but she didn't look very comfortable onstage.
Thia Megia - "Out Here On My Own"
This girl is amazing. She is 15 years old and can sing ridiculously well. She started off singing a cappela in a single spotlight. She has perfect pitch and tone which is something that all three judges agreed on. Randy even compared her to Michael Jackson and then said "This is what hot singing is all about."
Lauren Alaina - "Turn on the Radio"
She was fun and energetic right from the beginning. She brought out that country flare that hadn't been seen tonight. This was a perfect song for her voice and showed off what she can do. She looked and acted so natural onstage that you would think she was already a professional. Randy compared her to both Kelly Clarkson and Carrie Underwood.
Pia Toscano - "I'll Stand By You"
She was one of the best performers of the night. The notes she held out were long and beautiful. This was the best performance to end the night with. Randy said "That's how you do it." All the judges agreed that the performance was amazing and it looked as if the audience couldn't agree more.
Tune in tomorrow Thursday at 8/7c on FOX to see who makes it into the finals on American Idol.
(Image courtesy of FOX)