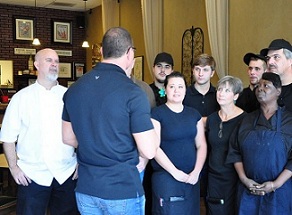 by Gina Scarpa
"Secret Garden"
Last night, on Restaurant: Impossible, Robert headed to Jacksonville, FL to check out the Secret Garden Café. The owners, Michael Williams and Zack Nettles, have owned the restaurant for six years but don't see eye to eye on how to run it. They're in major debt and it's possible that they may have to shut down in 3 months if things don't improve. The worst part is that they've never taken a salary for working there! Six years... no pay... what's the point?!
The first thing that Robert decides is that the décor has to go, which offends Michael and Zack. It doesn't look like a garden, though. It definitely needs to be freshened up. When a group of diners come in to check out the food, one notices that Zack is stomping around the restaurant and screaming at employees which, of course, is terrible for business. The insults continue when Robert rips apart the dishes while Michael sits and takes it.
In the kitchen, Robert shouts at the head cook for using pre-made mixes or sauces but the guy has a point. He's just doing what he's told. Robert promises to teach him how to improve the cooking at Secret Garden but first, he needs to meet with his designer, Vanessa, in order to figure out how they can do a week's worth of redecorating in a day and a half.
Robert's list for improving the restaurant is as follows: Getting the menu to be more focused, improving the décor, getting the owners on the same track, incorporating dinner service into the restaurant, and getting some advertising going in order to bring in hungry customers.
Vanessa throws Robert for a loop when she tells him that they can't take down one of the walls in the restaurant but he comes back with a better idea - cut out windows to keep his idea of an open dining room. Next, he books an appearance on a local radio station to let the people of Jacksonville know about the grand reopening.
Back in the kitchen, Robert realizes how untrained the staff is and blames Michael. They need to know the very basics of cooking before he can show them any new cooking techniques or menu items. Going into the reopening, Robert isn't feeling confident that the staff will be able to properly cook and plate all the dishes so he sells a buffet idea to Michael and Zack... which ends up taking $2500 off of his design budget. Vanessa is not going to love that.
Despite time constraints and a reduced budget, the design team is doing a really great job getting the restaurant ready.  In the kitchen, the staff is having a tough time even just getting the buffet food ready.  It's hard to imagine that they'll be able to improve and be successful once Robert leaves them on their own.
After some last minute touchups and a quick meeting with the staff, it's time for the grand reopening.  The customers have lots of positive feedback for Robert, Michael, and Zack.  They are loving the new menu and the new concept at Secret Garden.  Success!

Restaurant: Impossible airs Wednesdays at 10/9c on Food Network.
(Image courtesy of Food Network)
Follow Gina @ginascarpa