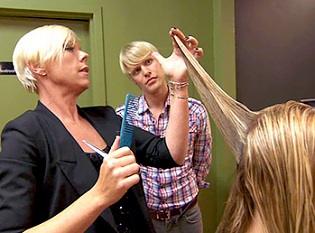 by Mike Bandy
Last night, on the season finale of Tabatha's Salon Takeover, Tabatha visited four salons that she'd taken over in previous seasons. She started with Tantrum Salon in Covina, CA, which she visited about a year ago. The owners had issues with their strained relationship, as well as a problem with cockroaches. In the course of a week, she revamped the entire staff, including their haircutting skills, excuses, and their attitudes.

Upon returning to Tantrum after one year, Tabatha found that the salon was extremely busy, and they were doing a charity event for the wife of the mayor of Covina, who had passed away from breast cancer. The salon is doing so much better financially, and the management is now really strong. Jodi, the former co-owner of the salon, decided that she wanted to go ahead and remain an owner. Her specialty was paperwork and paying bills. She promised to commit to the salon, and she's been doing great. Tabatha's takeover went really well, and everyone in the salon seemed ecstatic to be a part of it.

At the end of the day, the mayor of Covina presented Tabatha with the key to the city, and it was the first key to the city ever given.

The next salon that Tabatha returned to was Chicago Male, a gay-owned and operated salon in Chicago, IL. Chicago Male's business model was its biggest problem - they only cut men's hair, and they "specialized" in a thirty-minute haircut. Their salon was really dirty, and the owner, Scott, was doing a poor job of managing the salon. Tabatha proved that the thirty-minute haircut business model didn't work, and made sure that the staff were all stepping up and headed for success. During the week she was there, Tabatha turned the salon around and addressed a lot of issues that the salon was facing.

When returning to Chicago Male after one year, Tabatha found that a few of the stylists had left or been fired from the salon, and a few stylists had been added. There is no education in the salon, and once Drew left (the stylist that needed the most help), everyone figured that they didn't need any help. Scott, the owner of the salon, says that they're booked at 50% capacity, and they are doing haircuts for women now, but not as much as they could be. Tabatha said that she was taking the keys to the salon all over again, and was taking over again. She said that she'd stay there for a week, and Scott said that he didn't think they needed her. She told him that he needed education in the salon and change the way they market the salon. Also, Scott needs to be there more often.

Refuge Salon, in Silver Lake, CA, was taken over a year ago. The staff spent most of their time drinking and partying, and they didn't focus on paying the bills, and they couldn't even pay their employees. They even had clients that pay with vodka. Miriam, the owner, didn't seem to care at all. The staff had a lot of issues with styling and professionalism. Tabatha closed down the salon, and then had the staff do hair for a local rock band, and they did a very bad job.

Upon returning, Tabatha found that the place was empty and the place was for rent. Refuge had closed down...except it hadn't. They moved to a different location which is five times larger. Within the new space, they had a salon and a school. Miriam said that she's invested a quarter of a million dollars into the new business, and Tabatha asked her how she'd come up with the money. Miriam didn't have a straight answer, and Tabatha wasn't buying it.

Meanwhile, Tabatha decided to track down some of Refuge's former stylists, and found Michelle, one of the former stylists at Miriam's salon. She had opened her own salon, and a few of the staff from Refuge had joined her there. They told Tabatha that Miriam had dropped the ball and she's a liar. One of the stylists said that they saw the end coming. When the landlord came by and asked for money, Miriam disappeared, and a week later, Miriam changed all the locks so nobody could get in, and everyone had been let go.

The final salon that Tabatha visited was Martino Salon in southern New Jersey, which she had taken over a year ago. The owner, Martino, was living a playboy lifestyle and drove fast cars and had expensive taste. The staff didn't have a lot of respect, but Martino didn't have a lot of respect or professionalism either. When Tabatha took over, she determined that the salon was really dirty and a lot of the stylists had bad attitudes. Martino was really resistant to change and fought Tabatha at every turn.

Upon returning two years later, Tabatha found that Martino was really happy to see her. The place looked really great and was very busy. The salon had completely changed, and Martino had become calmer. He really stepped up as an owner, and the staff had really fallen in line. Martino's office was extremely organized and clean, and he was doing a lot better job. Sales had drastically improved and Martino was even working on a product line for the salon, and had it partially completed. The salon is paid off in full. At the end of the day, Martino offered Tabatha a diamond ring and asked her to marry him. He let her keep the ring even though she said no.
(Image courtesy of Bravo)
For more Tabatha's Salon Takeover links, visit SirLinksALot.net