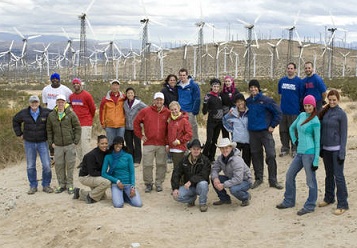 by Gina Scarpa
Last night, eleven teams of favorites (well, with a few exceptions) returned to run The Amazing Race one more time. Teams arrived in Palm Springs, CA, which Phil informs us that the first team to make it to the pit stop will win the Express Pass.
If the teams thought they knew how this race was going to go, they better think again. There is no clue sitting on top of their bags and their first challenge comes right away. Teams must search through a field of paper airplanes for one that says QANTAS, which stands for Queensland And Northern Territory Aerial Services. These people are headed to Australia... well, once they find what Phil needs in order to get a clue.
The first back with the correct clue are Mel and Mike, Zev and Justin, and Jet and Cord. The first eight teams make it onto the first flight while Jen and Kisha, Gary and Mallory, and Amanda and Kris end up on the second flight. To make matters worse, Amanda and Kris finish last and are given an automatic U-Turn by Phil when they reach the first Detour of the race.
A medical emergency forces the first plane to land in Honolulu to get a passenger to a hospital as well as refuel before continuing on. The second flight ends up arriving first and, as you can imagine, those bottom three teams were pretty pumped!
At Sydney Harbor, teams pick up a clue and hop on a ferry, which takes them to Oceanworld Manly, an aquarium. The Road Block they're about to face is one of the toughest and scariest in the show's history. One team member must descend into a tank full of sharks and a sting ray the size of a queen sized bed. They must search for a compass which will help them decipher a clue written out in nautical flags and then tell the Commodore a secret phrase in order to move on.
Gary and Mallory, who dove, are the first to finish and have a nice sized lead. Jen and Amanda decide to work together to decipher the clue and their teams are the next to finish. From the group of flight one, Zev and Justin finish first, then give the phrase to the Globetrotters to help them out.
Next, teams have to sail a 16 foot skiff across Manly Bay in order to find a buoy with a clue on it. It's on to Shelly Beach, where Gary and Mallory are the first to arrive at the pit stop, winning the very important Express Pass. However, it's not time to rest and relax. Phil informs the father and daughter, and the rest of the teams, that this leg is still going!
Teams finish in the following order: Amanda and Kris, Jen and Kisha, Zev and Justin, Flight Time and Big Easy, Jaime and Cara, Margie and Luke, Ron and Christina, Mel and Mike, and Kent and Vyxsin. Jet and Cord got completely thrown off by the nautical flag clue and are still trying to figure it out as the screen cuts to "To be continued..."
The Amazing Race airs Sundays at 8/7c on CBS.
(Image courtesy of CBS)

Follow Gina @ginascarpa
For more Amazing Race links, visit SirLinksALot.net