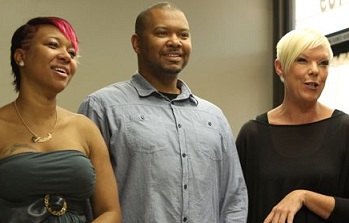 by Mike Bandy
Last night on Tabatha's Salon Takeover, we visited the absolute mess that was BQute Salon in Palmdale, California. The salon is run by a married couple, Frank and Shannon, who argue constantly in front of everyone. The salon has been open for six months and they're $80,000 in debt.

Tabatha met up with Frank and Shannon, to discuss the problems in the salon. Frank is supposed to be the salon manager, while Shannon is supposed to be an owner and stylist. Tabatha asked about the vision of the salon, and Frank said that he wants it to be the best salon ever. He owns several different businesses which he runs out of the salon, namely a bankruptcy firm, a travel agency, home loans, and there's a clothing boutique in the salon as well. Tabatha thought this was a bit nuts.

Salon undercover revealed that the stylists were all yelling and swearing at each other, and Frank and Shannon were screaming across the salon. At one point, Shannon and Brittanie, a stylist, got into a physical altercation that had to be broken up. Tabatha said that things were so bad, she couldn't wrap her head around it.

At the staff meeting the next day, the staff said that Frank and Shannon set the tone for the salon. Frank doesn't know how to manage, and Shannon picks and chooses when she wants to boss the stylists around. There's absolutely no professionalism or rules, and all of the stylists said they would leave if things didn't change.

The evaluation of the stylists' work showed that some really take their work seriously and some do not. Mostly, it looks like the stylists don't care because the leadership just isn't there. Breco, the receptionist, was working on a grand opening party for the salon, and was trying to invite President Obama to it. Tabatha totally LOL'd and said that was insane and delusional, because Frank can't even get the staff to be professional, much less having the President show up.

Tabatha sat both Frank and Shannon down and told them what all the stylists said; Shannon is unapproachable and mean, and Frank is just a distraction. They need better communication. Tabatha decided to take them to Dr. Karen Stewart, a marriage counselor. The couple worked out a few of their issues there, and it was suggested that they make their home their sanctuary, so they can enjoy each other outside of the workplace.

Next, Tabatha took everyone out to the Mojave Desert to show them how to work together as a team. They had to build a shelter for survival, and most everyone worked together to get the job done. Frank did a great job of taking the lead, and Shannon found a new respect for him. Tabatha said that everyone needed to take the business as seriously as they took this challenge.

Back at the salon, the renovation was kicked off by all of the stylists peeling the signs for Frank's numerous other businesses off of the windows. They were instructed to come back in a few days and be ready for big changes.

Three days later, everyone came back to find that the salon had one color scheme, the stations were refinished and cleaned up, and there were brand new dryers. The models came in, and it was time for everyone to prove themselves.

Everyone really stepped up to the plate on reopening day. There was a conversation between Brittanie, Shannon, and Tabatha about the altercation that had taken place, and Shannon apologized for it. The stylists did really great work, Shannon was a great leader, and Frank just kind of wandered around. He told Tabatha that he thinks Shannon should run the salon.

At the end of the day, Shannon told her staff that she would give them her all, Frank became a silent partner, Breco was named the office manager, and Brittanie was given the title of Shannon's assistant, so that she could learn more skills. Tabatha gave Shannon the keys to the salon and said that Frank and Shannon also needed to work on their marriage.

Tabatha came back six weeks later to find that a lot of changes had been implemented, Shannon had become a better manager, there were classes for the stylists every week, and even Frank and Shannon's marriage had improved. Tabatha was really impressed, and this recapper was blown away. Watching this episode truly made me believe that Tabatha is some kind of miracle worker, because this place was a hot mess when she got there. All in all, everything worked out great.
Tabatha's Salon Takeover airs Mondays at 10/9c on Bravo.
(Image courtesy of Bravo)
For more Tabatha's Salon Takeover links, visit SirLinksALot.net