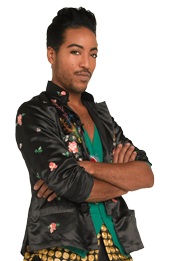 by Gina Scarpa and Allie Giffes
From the start of The Fashion Show: Ultimate Collection, there was something about Jeffrey Williams that was different from the rest of the designers. He told us in the first episode that he had a passion for designing unisex clothing, but in the end the judges came to adore his talent for constructing his garments around the curves of a woman. Although Jeffrey was more of a laid back competitor, there was never any doubt that he was talented and unique. Jeffery's final designs earned this season's title of the "ultimate collection," and he absolutely deserved this victory!
Q. Gina, RealityWanted: What brought you to The Fashion Show this season?
A. Jeffrey: My older sister Baionne actually. She and others have been telling me to try out for a fashion reality competition for years! So I finally tried and here we are today! Thanks for pushing me, big sis!
Q. Gina, RealityWanted: You obviously have had a lot to be confident about throughout this competition, yet you have remained so modest - but be honest, can you believe that you won the competition?!
A. Jeffrey: Thank you! Oh my god, yes, a very surreal feeling! My confidence was challenged constantly in this competition, but at the end of the day, I really tried hard to keep my eye on the prize!
Q. Gina, RealityWanted: Your final collection was motivated by a truly moving inspirational focus, your mother. Do you think part of the reason you walked away with this victory was because you dug the deepest out of all the designers?
A. Jeffrey: I think we all dug deep with our collections at the end of the day. It was such a vulnerable moment for me and I'm so grateful that Iman, Isaac Mizrahi, Glenda Bailey, Laura Brown, and the divine Mary J. Blige chose me. I hope to believe they saw my growth throughout show and want to see my future growth over the years as a young, modern designer.
Q. Gina, RealityWanted: When you were waiting to find out the results of that final runway show, what was going through your mind?
A. Jeffrey: SAY MY NAME! [Laughs] But seriously, I felt like I was going to faint and kept thinking in my head, "Say my name!"
Q. Gina, RealityWanted: You lost your mother to breast cancer, as so many people unfortunately lose their loved ones to the same disease nowadays. Could you see yourself designing a collection for a cause and becoming an active spokesperson for breast cancer awareness now that everyone knows who you are?
A. Jeffrey: Oh my god, hands down... This is something I would be honored to partake in and I hope comes my way! It's such a scary disease to see in action and takes so many lives; awareness is key. No child should have to lose their mother prematurely and if designing a collection could help save one woman, I'm on board.
Q. Gina, RealityWanted: What was the most important thing you learned about yourself in this competition? Do you think any of your fellow designers in particular helped you to become a stronger designer?
A. Jeffrey: Being that it's a reality competition and being able to work with other talented professionals really makes bring your game up or else you're "out of fashion", as Iman would say. I learned so much about myself over those long months, days, and hours full of blood, sweat, and tears. I learned even more than ever that no matter what I can make my dreams come true and I may be sweet, but I'm one tough cookie.
Q. Gina, RealityWanted: Are you working on any big projects? Can we expect to see your name in lights?
A. Jeffrey: Yes, I'm working on lots of projects right now. Many doors have been opening so I'm weighing my options and will continue you to stay in my light and shine. The world will always know what Jeffrey Williams is up... it's so exciting! Thank you RealityWanted for taking the time to interview me! Catch me on Twitter @JeffHova

(Image courtesy of Bravo)

Follow Gina @ginascarpa and Allie @agiffes
For more http://www.SirLinksALot.net#mce_temp_url#, visit SirLinksALot.net