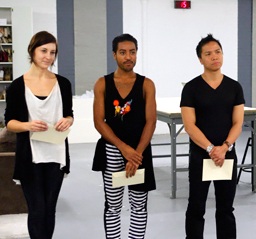 by Allie Giffes
On this season's finale of The Fashion Show: Ultimate Collection: it's finally here and it all comes down to this. As Iman says, the designers have all been through "highs and lows" to be standing where they are, but this is their final chance to prove themselves to the judges... and to America!
The designers each have to create nine looks in one week for the final fashion show. The pressure is on as the Calvin, Dominique and Jeffrey start to search deep within for inspiration. They must be vulnerable and put their hearts on the runway in order to win this competition.
The consultations with Isaac go extremely well. Calvin's collection will focus around his journey through the competition, first as an angry person and now a more "peaceful" person. Dominique's inspiration is the atmosphere of the competition and her journey through it: noisy, then silent. Jeffery's is dedicating his collection to his own inspiration - his mother, who he sadly lost when he was 20 years old to breast cancer.
A few days go by and Iman then surprises the remaining designers with... another designer! Calvin is reunited with Tamara, Jeffrey with Cindy, and Dominique with David (of course). The ex-contestants will help the finalists to create a tenth garment for their final collections.
Judgment day. The day of the final fashion show is here and everything comes down to these collections.
Calvin's collection is first to be showcased on the runway. His collection is exactly what he wanted it to be, "simple, clean and as minimal as possible." His collection was black and white, except for the last piece, which was a beautiful red dress that he designed with his sickly partner in mind.
Dominique is up next. Her collection is not only extremely chic, but wearable as well which is very important. Her collection is her vision of her own self and shows how she has evolved as a designer throughout the competition. She's "not the quiet girl in the corner anymore."
Last but certainly not least is Jeffrey. Seeing the final show moves him to tears backstage, and rightfully so. His collection is absolutely stunning; bold, classy and very flattering to the feminine form. He struggled through this design process, but his collection ended up being very strong. His final dress is the dress he always wanted to make for his mother, but never got to.
Joining the judges this week is Mary J. Blige. As expected, the last critiques are extremely emotional. The designers really put their hearts into these collections; all of their inspirations were extremely personal and unique to their lives and their journeys throughout this competition.
It all comes down to this moment. Each designer put on an amazing fashion show, but who will have the ultimate collection? The winner is... JEFFREY! As the model wearing his beautiful, fierce red dress walks on to the runway, all of the season's designers rush to congratulate him.
And that's a wrap!
(Image courtesy of Bravo)
Follow Allie @agiffes
For more The Fashion Show: Ultimate Collection links, visit SirLinksALot.net