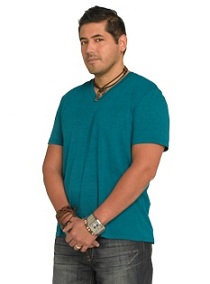 by Gina Scarpa and Allie Giffes
On this week's episode of The Fashion Show: The Ultimate Collection, the judges threw us for a loop when Eduardo, one of this season's strongest designers, was shockingly deemed "out of fashion." Though his designs were bold and beautiful, Eduardo was quiet and tended to keep to himself throughout the competition. He put some amazing work on the runway and was an extremely focused competitor, but unfortunately the judges felt as though he was producing looks that were too similar; both in concept and presentation. Today, we spoke to Eduardo in an exclusive interview about his experiences on the show and his surprising elimination.
Q. Gina, RealityWanted: You, and I'm sure all of the show's viewers, were obviously shocked when the judges told Calvin that he was staying and it came down to you and Dominique. What was going through your mind when they told Calvin he could stay?
A. Eduardo: I actually couldn't believe it. I was in shock. I really, really thought I was going to the finals. I couldn't believe they kept Calvin.
Q. Gina, RealityWanted: It seemed like Isaac was really tough on you - he said he wondered if you'd be surprised if they showed you your designs from day one until this challenge and they all looked the same. Did you even realize that you were designing looks that were "too similar?" Or do you disagree with what Isaac said all together?
A. Eduardo: I agree with some of the things that he said but I don't agree with all of it. He keeps saying I do the same thing every week. I disagree. I never have done anything like that dress before. For me, this is the first time. I don't know why they keep saying, "Eduardo, another ruffle dress".
Q. Gina, RealityWanted: You said that you looked at Cesar as your strongest competition, which is understandable considering the two of you won the most challenges; but is there anyone you're rooting for now that you're out of the competition?
A. Eduardo: I'm rooting for him and Dominique. I was very close to both of them. I really hope one of them wins. Cesar has great conception and Dominique gets stronger week after week.
Q. Gina, RealityWanted: You presented some really beautiful and unique garments on the runway; I'm sure people can't help but wonder what goes on in your head as you're conceptualizing your designs. What inspires you?
A. Eduardo: I get inspiration from everything that is around me. I get a lot of inspiration from nature, like flowers. I'm inspired by women and I'm inspired by beautiful fabrics.
Q. Gina, RealityWanted: You were a strong, experienced designer coming into this competition, but do you feel like The Fashion Show helped you grow even more?
A. Eduardo: Yes, definitely. It's helped me grow even more. Everybody thinks that I have a lot of experience. In 2007, I did my first collection and fashion show. It's only been 3 or 4 years. Everybody always says I have all this experience. I say, "No, no!" I think because I'm 41 years old, people think I've been doing this for years.
Q. Gina, RealityWanted: What was the biggest lesson you learned from being on the show that you've taken back into your life with you?
A. Eduardo: You have to be a team player. You have to know how to deal with different people and you have to know how to work together. I learned a lot about myself. I learned that I'm stronger than I thought. I never thought I was going to be able to do one dress or two dresses in one day and I did it.
Q. Gina, RealityWanted: What can we expect to see from you now that you're done with the show? Any big projects?
A. Eduardo: I have a big project coming up! I'm going to be showing in New York for the first time in March. I'm working on my new line that I'll be showing. This is the first time I'm going to mass produce my garments. Fans can go to my Facebook page or my website, eduardodelascasas.com.

The Fashion Show: Ultimate Collection airs Tuesdays at 10/9c on Bravo.

(Image courtesy of Bravo)
Follow Gina @ginascarpa and Allie @agiffes

For more The Fashion Show: Ultimate Collection links, visit SirLinksALot.net