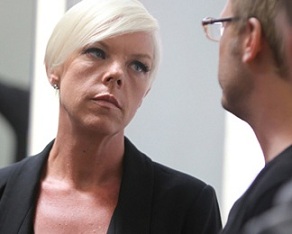 by Mike Bandy
Last night, Tabatha took over the Avanti salon on Newbury Street in Boston. The salon has been in business for 20 years, has an insubordinate staff, and there are no consequences for anyone. The salon is owned by a man named Alex, who has no backbone and cannot manage.
Tabatha meets Alex, who explains that he cannot control his staff and doesn't know how to. He's about $60,000 in debt, and the salon is consistently slow, while other salons on the block flourish. There is a lot of competition on Newbury Street, which is thought of as the Rodeo Drive of Boston. Alex says that a business should be able to run itself, and doesn't feel he's an effective manager. It was mentioned that Boston Magazine publishes a list of the best establishments in Boston, and Avanti has never been on that list.
Salon Undercover revealed that the salon is really slow, but a competitor's salon was really busy. The stylists were busy stuffing their faces, one stylist talked about how she was late because she was out partying. One of the assistants left the salon in the middle of coloring someone's hair and Alex says that's normal behavior. Alex has never fired anyone or made them take responsibility for anything.
The inspection of the salon revealed that it was a little dusty, the break room was in full view of the clients, and the washer and dryer were broken. Most of the stylists don't clean their stations, but Tabatha said that the real problem is that Alex cannot manage.
The next day at the staff meeting, the staff showed their lack of teamwork and took things out on each other. Rob the assistant said that Alex is a great boss because they get away with everything. Priscilla said that she's all about professionalism, but she has a track record of treating assistants really badly. Betty, who does the books, said that they owe a lot of money, and that they're struggling to pay people and keep the doors open.
After that, Tabatha invited the staff of Boston Magazine to come in as models so she could rate the stylist's work. Alex didn't take control of his consultation with the managing editor of the magazine. Janida did an excellent job on her model, while Priscilla did not. Tabatha showed the assistants how to properly do foil. Overall, the stylists do great work, and Tabatha said it was clear that the problem in the salon was a lack of leadership.
Next, Tabatha sat down with Betty and Alex, and he had no idea about the financials of the salon. Tabatha challenged Alex to sit down with Betty once a month to go over the books, and he said that he'll take control of the business.
Tabatha took the staff to the Harvard Boat House for a lesson in rowing. The coxswain of the boat explained about how great rowing comes from great leadership, and then the staff got to see him in action. They really got an understanding of how leadership can make great things happen. After this, they all got into the tank, and Alex had to be the coxswain and lead his team. He wasn't good at it at first, but he eventually got the hang of it and the staff was eventually all in sync.
Next, Tabatha took the stylists to another salon on Newbury Street that has been named in Boston Magazine, and they were the clients. Alex learned that it's not his job to be nice, he's got to run a business. The assistants got to watch a shampoo, and see how a customer should really be treated. Each stylist really got something out of it, and also got great hairstyles.
At the reopening of the salon, the staff came back to fresh color on the walls, a new washer and dryer, a new break room away from the clients. The clients began to come in, and most of the stylists and assistants did a great job, especially Janida, who continued to impress Tabatha. Alex had come a long way and was trying to step up and be a better leader.
Tabatha's final recommendations for the salon were to give the stylists a proper training program, and for Alex to be a better leader. These changes were announced to the staff, and Tabatha challenged Janida to be on time and not wear club clothes to work, and if she did, she'd take her shopping.
Six weeks later, Tabatha came back to find that the assistants were doing a really great job, and Alex had taken real ownership of the salon. Priscilla is changing, but hasn't changed totally, and Janida has completely changed her ways. Tabatha took her on a $2,000 shopping spree for her hard work.
Tabatha's Salon Takeover airs Mondays at 10/9c on Bravo.
(Image courtesy of Bravo)
For more Tabatha's Salon Takeover links, visit SirLinksALot.net