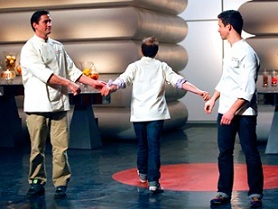 by Michael J. Lamp
Just a week away from the finale on Top Chef: Just Desserts, but only three can move on!
Francois Payard is this week's guest judge. He and Gail announce the Quickfire Challenge. The cheftestants must tell their life story through a box of Godiva chocolates. Each chef must create four chocolates that symbolize four milestones in their lives. The winning chef's chocolate story will be sold into 250 stores around the country.
Surprisingly, Zac and Yigit are Francois's least favorites. Zac's flavors aren't strong enough and Yigit didn't even finish. Uh oh.
Danielle's interesting flavor combinations and Morgan's beautiful but slightly sweet cake are tops this week. Francois declares Morgan the winner. Fun, interesting fact: Morgan used to work for Francois.
The pre-finale Elimination Challenge is to create an anniversary cake for Ben (who is precious) & Sylvia's wedding anniversary. We meet Ben when the challenge is unveiled, but not Sylvia. Interesting. Ben's friends are hosting a party in Beverly Hills. This week's winner gets an extra $15,000.
While the chefs prep, Gail wants to introduce them to Ben's adorable wife. She happens to be Sylvia Weinstock, famed pastry chef and wedding cake connoisseur. She was a guest judge earlier this season, remember?
Morgan's cake is topped with a piano filled with flowers. The couple's first kiss was under a piano. He draped a yellow bikini top over the piano bench, highlighting the memory of meeting each other at the beach.
Danielle's cake is grey, inspired by Sylvia's grey wedding dress, with piano keys ascending in a stairwell design. Zac's cake is very (maybe too) ornamented and represents the 'splashiness' of Sylvia's demeanor.
Yigit's cake is pastel yellow with a floral top. He garnished the cake with piano keys, and his use of Sylvia's glasses adds an interesting aesthetic.
The judges give Danielle a hard time for her use of the 'unappetizing' grey color. They like Yigit's aesthetic, but the texture was problematic. Morgan's cake was dry and his design was uneven. Zac gets kudos for his playful style, but Johnny wishes it was more mature.
Zac tells the judges that he doesn't appreciate Morgan's stoicism when he wins challenges. Morgan says he's not a little girl. Oh shit.
The winner is Danielle. Surprise! She's thrilled. She's also $15,000 richer.
Zac gets the pastry boot, one week shy of the finale.
Top Chef: Just Desserts airs Wednesdays at 10/9c on Bravo.
(Image courtesy of Bravo)
Follow Michael at twitter.com/mjlamp
For more Top Chef links, visit SirLinksALot.net