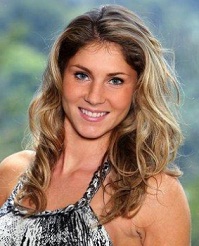 by Gina Scarpa
Last night, Hayden and Kristen were stuck on the block against one another on Big Brother.  Feeling safe with his Brigade alliance, Hayden had no need to campaign, which set off warning bells in Kristen's head.  Though she didn't know for sure, she began letting people know that she had suspicions he was working with Lane and Enzo.  Her words fell on deaf ears and she was evicted from the house.  Today, Kristen spoke to RealityWanted in an exclusive interview about her feelings towards Hayden, what she really thinks of Rachel, and what her next move would have been.
Q. Gina, RealityWanted: What made you want to try out for Big Brother this season? Were you a fan of the show?
A. Kristen: I watched it more when the show first started and the scenarios were different. It's hard for me to follow any show with my work schedule. I know what it takes to get to the end and I thought I had something different to bring to the table.
Q. Gina, RealityWanted: On last night's episode, there was interview with Hayden's mom where she said that she felt your feeling for Hayden weren't genuine. Were they?
A. Kristen: They were and I don't want to say that I wish that they weren't but I think I would've had my head on more straight. It was hard because I had somebody back at home. I had intended to not have a showmance at all. It's a shame that anybody would think that because it affected my gameplay.
Q. Gina, RealityWanted: Were you surprised to learn that Hayden was part of the Brigade?
A. Kristen: Yeah, I didn't know who it really consisted of but after things started to go downhill for me, I knew there was something I
didn't know and I couldn't put my finger on it. There were times that just the guys were together and there were things I didn't know about. It seemed like Ragan and Matt were spending time together and it seemed like there were some cross alliances going on.
Q. Gina, RealityWanted: How is Rachel and Brendon's relationship different than your relationship with Hayden?
A. Kristen: Their relationship is strange and I think that it's a really strange combination. I think that Rachel is really possessive and uses guys and Brendon has fallen victim to women in his past - at least that's what he's told me. He's fallen for someone that he's way better than. The relationship that Hayden and I have... I don't think that either one of us was intending on it happening. I think that it was hard to be in the position he was in because he made an alliance before we got together so he found himself trying to balance those. I can't be mad at him for that. Regardless of what happens, I definitely don't regret anything.
Q. Gina, RealityWanted: Who is a bigger target - someone like Hayden, who is part of a powerhouse alliance or Ragan, a floater whose allegiance is unclear?
A. Kristen: I would like to say that Hayden is a bigger target but if nobody knows about the alliance until it's down six or seven people, there's really not going to be too much that people in the house can do. I'd like to say that Hayden is a bigger threat but maybe not a bigger target. I think Ragan is the bigger target because he's one of the smartest game players. I heard that he could be the newest saboteur and I think he should take that opportunity.
Q. Gina, RealityWanted: If you had stayed, what would have been your next move?
A. Kristen: My next move, staying in the house, would be to progressively find out more information about this alliance. If I stayed, I would've acted like I had no clue. I would have created my own secret alliance with Ragan, Kathy, and Britney. It probably would've been a split in the house. Rachel and Brendon aren't going to last.
Q. Gina, RealityWanted: When Andrew left the house, his eviction ceremony speech had a lasting effect on the house which unfortunately, played a part in your exit. Do you hope that what you said while campaigning, about the possibility that Hayden, Lane, and Enzo were working together, will stick with people?
A. Kristen: Yeah, I hope it has a lasting effect on people. I just hope that it comes out into the open. I got really screwed in this game. What I was doing was not a lie. I was up front and honest. I think what they are doing is a huge lie that will be detrimental to everyone else's gameplay. As much as I want a good thing for Hayden, I believe in karma.
Find out who the next HOH is on Big Brother, Sunday night at 8/7c on CBS.

(Image courtesy of CBS)
Follow Gina at twitter.com/ginascarpa

For more Big Brother links, visit SirLinksALot.net