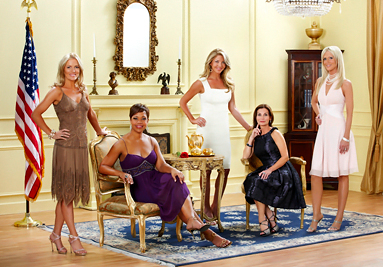 by Chandra Clewley
The premier of The Real Housewives of Washington D.C. aired tonight to tons of curious Housewives fans. First we get to meet all of the girls on the show. There is Mary, born and raised in DC, she lives in McClean, Virginia now and has five children with her husband of 25 years, Rich. Stacie lives in DC and calls it the "chocolate city". She is a Harvard Business School graduate and a real estate agent who sells between 25 and 30 million a year. She lives with her husband Jason and their two children. Next we meet Lynda, who runs a modeling agency with a huge client base. She has a pug named Ichiban and also has four kids. She says she has no desire to be married again but has a boyfriend who is twice as tall as she is, and half her age, named Ebong. Cat is from Great Britain, she and her 2 daughters moved to Washington DC to be with her childhood sweetheart who she hadn't seen for 18 years and is now married to. He is the White House photographer. Cat also wrote a book called Inbox Full about her life. Michaele is married to Tareq and in the beginning of the show, calls the oval office the "oval room". They live in Virginia Wine Country and have a winery but spend a lot of time in DC where they run America's Polo Cup. Of course, this is not the last we will see of their rodeo, and they are already infamous for crashing a party at the White House! 
At the event for America's Polo Cup that Michaele and Tareq hold, we meet someone named Paul Warden, who is a mutual friend of Lynda and Michaele's. He asks where Lynda is, but it turns out she decided to pass on the event since she didn't get paid the last time she was there. Not quite sure what that means, unless there was a fashion show or something….Anyhow, Cat does come, but is not impressed with America's version of Polo. 
Later Mary and Lynda meet for drinks, where they are planning Mary's birthday. They decide to invite Cat and Stacie but don't want to invite Michaele, even though she and Mary go way back.  While Mary is getting ready for her birthday party, we see that she keeps her closet locked up with a fingerprint padlock. This is to ward off Lolly, her daughter who has moved back in and apparently shares tastes and the same size with Mary.  While they are getting ready, Mary has a change of heart and invited Michaele. At the party, Lynda is surprised to see Michaele and says it is like inviting second tier people and it feels unnatural. What REALLY feels unnatural is how poor Stacie and poor Ted Gibson (hairstylist) are seated next to each other because Mary knew "they would have a lot in common." What Mary, like the fact that they are both African American? Mary, tipsy, goes on to them about how they should integrate white and black salons…quick someone shove something in her mouth! Stacie looks away awkwardly…poor thing.
Stacie has the opportunity to host a cooking lesson by Janet Jackson's chef, Cheo. She decides to invite Cat and Mary along with several other girlfriends. When Cat arrives, she causes a stir by sort of stealing the show. First, she complains about how awful Tyra Banks is (totally agree with her here!!! She is awful!) but no one else in the room seems to agree with her, including Chef Cheo who has cooked for Tyra Banks! After that, she begins to talk about her husband's job and how he spent the entire previous day with Joe Biden. She then goes on to talk about how Barak Obama was privy to her entire romance with her husband, but he never RSVP'd for her wedding, unlike George W. Bush, who did RSVP and was always very gracious to them. All of the women in the room are annoyed that she would expect an RSVP from the President of the free world while he is busy running a country in crisis and are also wondering if Cat might be a bit racist, if not just opinionated…
Lynda corners Paul Warden at another event, and tells him that Michaele is too skinny, on the verge of danger, and that he should tell her the next time he sees her. So he does. Michaele is pissed, it's not Lynda's business that you can count the number of vertebrae through Michaele's CHEST. 
And so goes the first episode of The Real Housewives of DC. What did you think?
Catch an all new episode of The Real Housewives of Washington DC next Thursday at 9/8 c on Bravo.
(Image courtesy of Bravo)
Follow Chandra at http://twitter.com/ChandraClewley
For more Real Housewives of DC visit Sirlinksalot.net