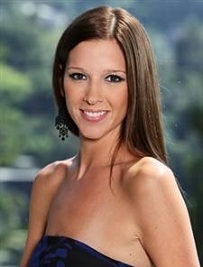 by Gina Scarpa
This season, on Big Brother, host Julie Chen revealed to the contestants that one person in the house wasn't playing to win this game. They were playing to sabotage the strategies and game of others around them. For a week, houseguests and fans wondered who it was until it was revealed on Thursday's episode that it was Annie. The only problem was that she got backdoored out of the game and was gone before she could wreak too much havoc... but the houseguests still don't know that she was the one after them! Today, we spoke to Annie in an exclusive interview about being the saboteur, what she wants people to know about her, and whether or not she'll be friends with Brendon and Rachel once Big Brother ends.
Q. Gina, RealityWanted: Are you a Big Brother fan? What made you decide to try out for the show?
A. Annie: I'm a huge Big Brother fan. I've been watching for a very long time. I just love the idea/concept of the show, although I never thought of auditioning. I just got sick and tired of these girls riding the coattails of other guys. I wanted to show women that you don't have to ride coattails to win this game."

Q. Gina, RealityWanted: Being the saboteur, do you feel like America didn't really get to see who you are as a person?
A. Annie: I wish they could have seen that I am an extremely positive, fun-loving, adventurous person and someone that everyone can trust. I would have loved to stay in the house so America could see the real Annie.

Q. Gina, RealityWanted: Was teaming up with Brendon and Rachel specifically something you planned to do or were you just trying to form an alliance quickly?
A. Annie: Absolutely not. I had a conversation with Brendon. I thought we could have been a really good team. I didn't trust Rachel at all and I told him that. I just wanted an alliance with Brendon and then, the showmance took over and I couldn't trust him anymore.

Q. Gina, RealityWanted: If you could have chosen anyone in the house to team up with, who would you have picked?
A. Annie: I would have befriended Hayden. People in that house love him. I was originally safe because he trusted me, but obviously that didn't work out. This whole thing could have worked out so much differently.

Q. Gina, RealityWanted: Was your reaction to being placed on the block, replacing Brendon, genuine?
A. Annie: Part of it was. I made the comment about Britney to get people thinking. The comment for Brendon was meant to be sarcastic but it was perceived the wrong way. But when I spoke with Brendon I was generally upset.

Q. Gina, RealityWanted: What are your feelings towards Brendon and Rachel? Are they people you will stay friends with?
A. Annie: I'm not sure I can trust Brendon anymore. Had we met outside of this game - possibly. But I don't think Rachel and I will be friends outside of the game."

Q. Gina, RealityWanted: Who is playing a good game, early on, that perhaps the other players should be paying attention to or targeting?
A. Annie: I think Ragan is playing a pretty good game. He's a gamer. He's really fun and there's nothing bad I can say about him. He could just float through the game. He is a likable guy and pretty sensible. He could go far.

Q. Gina, RealityWanted: If you had stayed, what would've been your next move in the game?
A. Annie: I would have stuck to my word. I would have stuck with Hayden. I would have put up whomever the house wanted me to put, which was Brendon. I would have had the opportunity to prove that I am trustworthy and I would have done that."

Find out who Rachel nominates for eviction on Big Brother, tonight at 8/7c on CBS.
(Image courtesy of CBS)

Follow Gina at twitter.com/ginascarpa
For more Big Brother links, visit SirLinksALot.net