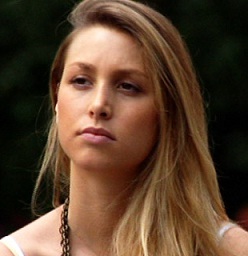 by Gina Scarpa
Last night, on the season finale of The City, Whitney sat down with Kelly to let her know that she's been approached by a publicist, Alison Brod, to represent her line. This news doesn't sit too well with Kelly, as you might expect. Whitney isn't repped by People's Rev but they have certainly helped her along since the very beginning of the Whitney Eve line. Kelly offers a few words of warning but it seems Whitney is going to do what Whitney wants to do.
While Olivia takes care of Elle business in Japan, Louise steps in to interview Karolina Kurkova for the website. Erin pushes hard for her to be the new face of Elle.com but Keith, the editorial director, isn't totally sold on her yet and Joe is not ready to make a decision. Louise has received another offer to become a tv host, so Joe will have to make his mind up soon.
In Tokyo, Olivia makes a great impression on the employees at Elle and they invite her to a party later on, where they'll interview her about her sense of style. On stage, she was poised, humble, and very complimentary towards the people of Japan and their fashion sense. While Erin and Robbie may have hoped for her to crash and burn, it seems Olivia is a hit.
Whitney meets with Alison who promises to ramp up sales, but in the back of Whitney's mind, she must be remembering that Kelly warned her about keeping up with demand when her production ability is low right now. She promises Alison that she'll make a decision after sleeping on it.
Let's just say it: Kelly Cutrone knows what she's talking about. She promised Whitney that every 5th word out of a publicist's mouth is BS but it seems every word out of Alison's mouth just doesn't smell right. She spread the word that Whitney fired People's Revolution and Kelly... is... fuming! She tells Whitney that she has no time to dismiss rumors that are completely false and kicks her out of the office.
When Olivia returns from Japan, Joe is so happy with her that he officially names her the new face of Elle.com. Louise will be taking the hosting gig and is parting ways with the magazine. The look of disgust on Erin's face is pretty obvious to the entire world. It looks like these two are going to have to way to get along - at least, at work.
Whitney meets up with Roxy, who wisely warns her about burning the bridge with Kelly. Whitney doesn't seem to know what exactly she wants to do but it looks like she's leaning towards going with Alison as her publicist. Will she stay loyal or choose another path? We'll have to wait to find out until The City hopefully returns for another season on MTV.

(Image courtesy of MTV)

Follow Gina at twitter.com/ginascarpa