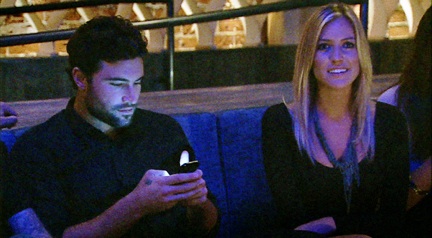 by Michelle Spigner
"Love's Me Not"
On last night's episode of The Hills Kristin is torn between what she thinks she ought to do and what's on her heart. She hoped that sparks would fly between her and Brody in Costa Rica, but instead he acted like he had no feelings for her at all.

Stephanie tells Lo about everything that happened in Costa Rica. Lo doesn't understand why Brody was being such a jerk, especially since he knows that Kristin is still in love with him.

Brody and his friends hang out at the car shop. He tells them about Costa Rica and how crazy Kristin was acting. He doesn't understand why she was so upset when he told her that he loves her like a sister, or why she had a fling with the bartender at the hotel. Frankie explains that Kristin was just hanging out with the bartender to make Brody jealous. It turns out Brody was acting like that because he has been seeing someone else.

Holly's mom, Darlene, is coming to town, but she has no idea that neither she nor any of Heidi's former friends are no longer speaking to Heidi. Holly picks up Darlene from the airport. Holly has tried calling Heidi several times to tell her that their mom is in town, but she hasn't had any luck reaching her. Darlene really wants to see Heidi and thinks that Heidi will come around when she is ready.

That night Kristin and Stacie go out to a club and run into Brody and his friends. Kristin hasn't seen Brody since Costa Rica and he kind of ignores her. He gives her a quick hug and sits down and texts for most of the night.

A friend of Brody's who races motorcycles, Josh comes as well. Stephanie is really interested in him. And Josh is interested in her too. But Brody doesn't put in a good word for her. Instead he tells Josh that she has some serious issues, but Josh decides to walk Stephanie to her car anyway. They exchange numbers and plan to go out to dinner sometime.

The next day, Kristin is upset that Brody barely spoke to her at the club the night before. Brody wants to come over to talk to her. Stacie advises Kristin to put everything out there and be completely honest with him about her feelings.

That night Stephanie and Josh go out for their first date. Despite Josh's armful of tattoos and disheveled bad boy appearance he is a really sweet guy. Stephanie doesn't feel pressured to explain why she isn't drinking because Josh turns down the alcohol too.  Josh is honest with her and tells Stephanie that he was nervous to go out with her, because of the things that Brody had said. Brody told him about the things that had happened between her and Spencer and about her DUI. However, he is very understanding and is glad that things have turned out the way they have for her. And it turns out the non-drinking thing is something they both have in common.

Lo and Scott go out to dinner to celebrate their one-year anniversary. Scott makes Lo very happy by asking her to move in with him. But, Lo tells him that she is hesitant to take a step like that unless they took the next serious step in their relationship. Scott just tells her that if that's what she wants to do then he is there.

Brody comes to Kristin's house to talk. Kristin tells him that she has really put herself out there the past few months. Brody flat out asks her what she wants. Kristin looks him in the eye and tells him that she wants a boyfriend and wants things to work out between them. Brody asks her why she was playing games with him, and doesn't understand why she is saying this now. Kristin was just hoping that they could give it another shot. Brody tells her that she is too late. He has been distant lately, because he has been seeing someone else. Kristin tells him good luck with his relationship and Brody leaves.

Lo and Stephanie take a yoga class and chat about Stephanie's date. Stephanie really likes Josh and hopes things work out. Stephanie is really excited that Scott asked her to move in with him. But Lo, is hesitant because she has a rule that she won't move in with a guy until she's engaged. But Stephanie thinks that she should make an exception because Scott is so great.

Holly and her mom, Darlene, go out to lunch and Holly tries to call Heidi, but again there is no answer. They are both worried for her. Darlene thinks that Heidi feels torn between her family and Spencer. She ultimately chose Spencer, and so she shut her family out completely. Darlene is really torn up about this. She has had trouble sleeping and feels like she is mourning the loss of her child.

Kristin meets Lo to talk about everything that happened with Brody. Kristin tells her that Brody has a girlfriend now. Kristin feels really hurt because everyone around her has been saying that she and Brody are meant to be together, but Brody doesn't feel that way. Lo tries to talk her out of her depression, but Kristin feels so rejected. She put herself out there and the guy she loves doesn't want her. So now Kristin is done with Brody for good. 
For more The Hills Links visit Sirlinksalot.net