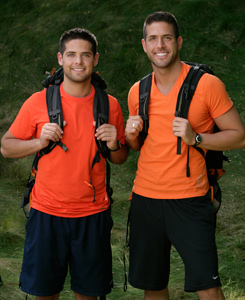 by Sam McMillen
The Amazing Race 15
This week's episode of The Amazing Race takes us to chilly Shanghai, China, where the teams get a tasty dose of culture. From noodle making to fashion designing, the teams got to experience both rural and urban Shanghai, which is definitely priceless. The episode starts out rough for two of the teams, however they manage to catch up to make the last challenge pretty crucial. Of all the things I learned from watching this episode and the secret scenes this week on CBS.com, I'll never tell Jordan he reminds me of Richard Simmons. Here are a few more of my observations.
ALL CHUMMY
At this point on The Race, the teams have spent enough time together to have relationships. We see them all hanging out over a meal of McDonald's in the Singapore airport, laughing and chatting about the previous leg. Once you get to the second half of The Race, you'll do pretty much anything to find a social outlet from ANYONE other than your teammate. Being within 20 feet of an individual, 24 hours a day for over three weeks is enough to drive you insane. The littlest things start to annoy you: how they breathe, what they want to do in the down time, the shape of their pinky toes, etc. A team of siblings? Multiply that by 247,956. Once our season reached this point, it was really a great moment because we got to share the experience with perfect strangers whom we had grown to love. Nonetheless, the moment the action restarts, you have to put your game face on and do whatever will keep you in The Race.
FRIGGIN CABS
As soon as the Teams land in Shanghai, they must take a cab to the village of Zhujiajiao. Brent/Caite and The Cowboys are lucky enough to find cab drivers who know where they're going. Dan/Jordan and The Detectives, on the other hand, aren't so lucky. Their drivers have to stop a few times, get out and talk to each other, and they still end up taking the teams to the wrong place. As Jordan says, "it was like the blind leading the blind". It's that simple. You get one bad cab driver, and all of a sudden you're fighting for last place. The two teams with the cab problems couldn't quite make up the time, and ended up arriving to the Pit-Stop in 3rd and 4th place. Proof of the influence of cabs.
HE PINGPING
This week's episode hosted He Pingping, the smallest ambulatory man in the world. Seeing him at the first Roablock must have been great for the Racers, taking their minds off The Race for a short moment to embrace this quick dose of diversity. I'm not sure if anyone knew who he was, but I'm guessing a few recognized him from TV and such. The episode was dedicated to Pingping who passed away on March 13. My only hope is that he enjoyed his small taste of the show that we love so much, and didn't feel too exploited in the process.
SOMETIMES AFFIRMATION SUCKS
One of the weirdest things about The Race is that sometimes verbal affirmation can have the opposite effect. Brent and Caite ran into this issue a little bit on this leg. While Caite was doing the noodle Roadblock, we can hear Brent encouraging her in the background. At one point (completely focused on noodle maneuvering), Caite tells him to just shut up. In a secret seen, she discusses how she was trying to yell words of support to Brent while in the stadium, even though he probably didn't want to hear it. I'm glad they've caught on. In those moments when you're in the zone, totally focused on the task and completely desperate to finish it, the last thing you want is someone tapping into your flow. Even if they're only trying to offer kind words of encouragement, sometimes silence is just the thing you need.
PREDICTING THE NON-ELIM
The split second Dan and I reached the mat after our first Prague leg, we reached out our hands and excitedly asked Phil for our next clue (assuming it was a continuation leg like in Season 14). I'm guessing this season was no exception, as we haven't seen a non-elim since The Seychelles. If you know how many legs there will be (which Phil usually subtly states at the start line), the math is pretty simple. The teams probably knew this would be a non-elim, but it definitely didn't stop them from going all out. In a secret scene, we see Jordan talking about how he kind of hopes it's a non-elim leg simply because he doesn't think it's Mike and Louie's time to go. Even though it means they're still at risk of not making the finals, Jordan and Dan would rather have a chance at keeping Mike and Louie in the top three and seeing the Cowboys go. It just goes to show that sometimes the experience has more value than the possible outcome, which is the best attitude you can have on The Race.
MY BIGGEST PET PEEVE
Brace yourself, here comes the soap box. So Mike and Louie seem like really nice guys, and I've really enjoyed watching them this season. With that said, Mike made a comment this episode that made me throw up in my mouth a little bit. When discussing the fashion challenge in a post-leg interview, Mike says "Jordan must have been in heaven being the gay male that he is". Aaaaand... vomit. The media has a funny way of perpetuating gay stereotypes, and this episode of The Amazing Race was no exception. Sure, it's great that Mike and Louie are obviously supportive of Jordan. But these stereotypes can have unseen effects on marginalizing certain groups. By knowing Jordan is gay, all of a sudden they know what he's interested in and the things he's good at. Nonetheless, nothing makes me happier than seeing more young gay people disclosing their sexuality in a public setting. Alright, I'll admit, the grin on Jordan's face when he picks out that first skirt had uncanny similarity to a sixth grade girl getting a lap dance from Justin Bieber, but I won't hold it against him. Soap box concluded.
MOTHER NATURE
The elements definitely made an appearance in this week's episode. The first appearance was during the noodle Roadblock, when the cold weather was obviously affecting Jordan's hands. He mentions in a secret scene that he's grown quite accustomed to Atlanta weather, so I can imagine he was pretty miserable during that challenge. He should have borrowed Pingping's cigar to warm himself up a bit. Mother Nature reared her ugly head during the second Roadblock, this time in a much more debilitating way. The stadium must have formed some sort of wind tunnel because both Cord and Brent lost a lot of pieces during one particularly strong gust. Brent got the worst of it, practically having to start over after collecting countless pieces scattered across the stadium. Both gentlemen did a good job at having a few words with the wind Gods (Brent more so than Cord) and then getting over it and moving on. That's what keeps you in The Race. When something happens that's out of your control, it's how you react that will determine your fate. Let out your frustration for a moment, think of a way to fix the problem, lower your head and press on. Neither of them allowed their frustration to distract them from their focus, which is why they finished first and second.
THE LANGUAGE BARRIER
The language barrier issues this episode are definitely a preview for some HUGE problems next week. From the moment the detectives and Dan/Jordan got into their cabs, they should have known disaster was about to strike. It's pretty unlikely that a cabbie who doesn't speak a lick of English is going to help you out. Dan and I ran into that problem in Vietnam, and ended up having to gesture for our driver to just follow the cab in front of us (which happened to be Maria and Tiffany). When we momentarily lost them at a stoplight (as seen for Dan and Jordan in scenes from next week), we thought our Race was over right then and there. I'm predicting some hard core Vietnam flashbacks while watching Dan and Jordan next week. It's hard to convince yourself to pass up a ride, but sometimes waiting for an English speaking driver or taking the time to pull over and find someone who can translate is worth it.
Mike and Louie came in last, but were spared elimination by the sovereign Philiminator on high. Based on the fact that Mike and Louie are leaving so much later than the other teams next leg, AND the fact that they'll have a speed bump, recovery is going to be tough. However, the leg just before the finale is historically very long winded and ridiculously difficult, so we definitely shouldn't cross their names off quite yet. As always, the previews look exciting and I see some drama in our near future. The next leg determines who will cross the finish line, so let's get ready!!!
The Amazing Race airs Sundays at 8/7c on CBS
(Image courtesy of CBS)
Follow Sam at twitter.com/sammcmillen
For more Amazing Race links, visit SirLinksALot.net