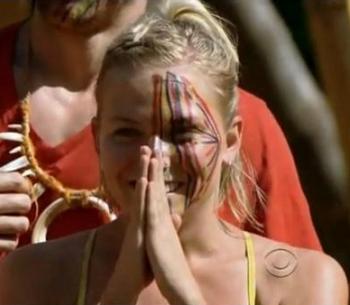 by Ashley Trainer
Survivor: Samoa
First off, I would like to start and say that I love that Russell calls himself the king and Parv calls herself the queen. I think Parv is for sure wearing the title here and is in more control of the game than anyone could have guessed. There is a reason she has made it so far in past seasons. She is a very strong player. I think we should take a page out of the Twilight playbook and create Team Russell and Team Parvati T-shirts. Which would you choose?
Merge episodes are always fun to watch. They get a big feast and the new interactions are so intriguing to me. I wish I could have made it to merge so I could actually know what that feels like.
Best line this episode: "Oh thank god Russ is here!" Yes JT, this is how I know you have absolutely no idea what is going on. I could not believe that Russell swore on his kids to Rupert and JT. Rupert was smart and knew not to trust him. JT not so much... it's funny in the game of Survivor. Sometimes you want to believe someone so bad that you believe everything coming out of their mouths. AKA JT.
The story Russ told about how the idols were played was shocking to me. It was a good story and he thought on his toes but seriously. I know sitting at home you watch the TV and scream at it saying "Why did you do that?!" Like I just said, no one can understand the game unless you have actually played it. I was guilty of believing certain people at different points in my game play. It's something that happens in the wonderful game of Survivor!
What about that challenge?! For some reason, I love this challenge. I remember it from other seasons and it's always a great one to watch. Also, it's very fascinating to imagine the splinters that you would get sliding down it, ouch! Looking at Parv standing sideways on it was crazy! That girl has some mad muscles. I think that stepping down and letting Danielle win was a good move. Parv is setting herself up with people very well.
Trainer Tip #10 - Thinking ahead in the game is smart, just like Parv is doing. She is setting herself up with people in a way that's smart if she makes it far in the game for them to vote for her to win. Jerri and Sandra both now owe her and are personally indebted to her.
Back at camp, Parv and Amanda finally got a chance to talk. Everyone knows how powerful Parv is and they want to get rid of her. They even made her feel like the odd duck out when they first merged.
I can't even imagine what camp was like when they got back. Scramble City, I am sure. I bet Russell was running around putting thoughts in everyone's ears, making empty promises. I am starting to love Sandra more each and every week. She is one smart woman, and Rupert is one smart man. Those two would make a great team, to bad they can't stand each other.
I didn't know it was possible, but Survivor keeps getting better. Tribal was by far the best part. Nothing really crazy happened until Jeff asked about idols. The second Parv pulled the first one, my jaw hit the floor. Then, when she pulled the second, I didn't even know what to do! She saves both Sandra and Jerri. Now the numbers are in the villains' favor and Jerri and Sandra owe Parv. I could not believe it. Russell had no idea either! He may not be in control like he thinks he is. I think this tribal was the first that Russell was shocked along with everyone else. JT ends up leaving looking pretty bad if I may say so myself. I like JT and think he is a super awesome person, he just didn't play his cards right. With the way this season is going, I can only see it getting better!
Survivor: Heroes Vs. Villains airs Thursdays at 8/7c on CBS.
(Image courtesy of CBS)

Follow Ashley at twitter.com/asheetrain
For more Survivor links, visit SirLinksALot.net