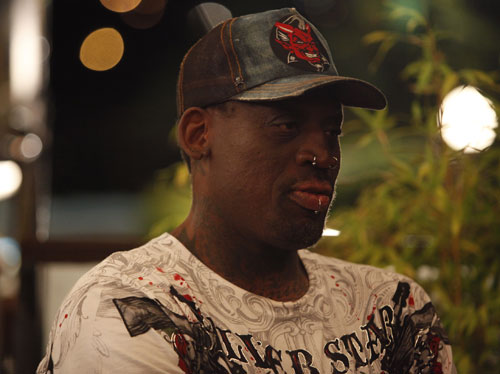 By Jackie Helm
Last night on Sober House, Dr. Drew discussed the patients' plans once they were sent home.  Everyone seemed pumped about building a new life.  However, Heidi Fleiss said she's going back home to her birds.  Drew attempted to convince her that she needed to create a fresh start and knock out all the old familiarities that would lead to using again.  She shrugged her shoulders and Dennis Rodman said he thinks Heidi will go back to her old ways when she gets home.
House Manager, Jenn and Mike Starr hugged and made up after last week's crazy battle.  Tom Sizemore made a court appearance and got off with just probation.  He and his girlfriend Monroe also signed a lease to a new apartment.  She apparently finished rehab herself and I hope and pray that they stay sober together!
Dennis Rodman is still being non-chalant, in denial Dennis Rodman.  He said that as soon as he leaves he has an event to "work" that will include two parties.  He repeated that alcohol won't kill him, but can not promise that he will never drink again. Dr. Drew thought it would be helpful to reunite Dennis with his mother.  He had apparently alienated himself from his family for 7 years.  During the visit, she said that she wasn't "after" his money but he shut her out although he promised to take care of her.  She later met Dennis' wife and kids for the first time.  Dr. Drew seemed to succeed in bridging the gap although Dennis remained rather emotionless.
To celebrate their upcoming release, the residents were able to have a barbeque.  Jenn wanted them to learn how to kick it without getting high.  They were able to invite outside folk and that's when the problems started.  One of Seth's friends, Jenna was high!  Ironically, Jenna is a porn star but is not to be confused with the famous Jenna Jamison.  Jenn claimed that she "had" to take Jenna's urine and oddly the girl obliged.  Surprise, surprise, she was high on coke and benzo's! 
Jenn and the rest of the crew attempted to perform an intervention and get the girl to commit to rehab.  She was feeling it and admitted that she wanted a change.  She sulked her way on out of the house but Jenn later confirmed that Jenna never did seek help.
Next week is the Season Finale!
Sober House airs Thursdays at 9/8c on VH1.
 
(Image courtesy of VH1)