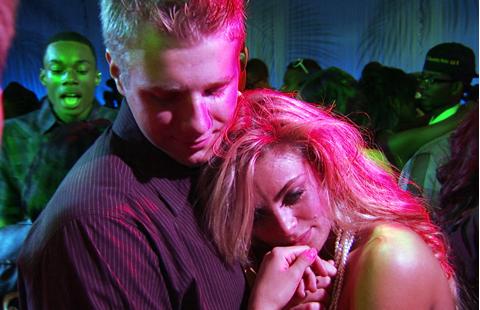 By Lindsay Strouse
Last night on Taking The Stage, the final hype is starting to set in for SCPA's production of "Fame." Even more prevalent than the talk about the show is the talk about the people IN the show.
Emily still doesn't know who to believe about the rumors surrounding Ian's fidelity. Anna promises to find out what she can by talking to Kayla (the rumored "other girl"). Homecoming is only a couple weeks away, so the girls are stressing out.
Carlton is extremely nervous for the show as it's his first time performing on such a big stage. Not to fear, Carlton! Anna will give you faith. Following an adorable session of confidence-inspiring words, Carlton not-so-nonchalantly reminds Anna about his request to go to Homecoming with her. However, there's no time to hear an answer because the final dress rehearsal is about to start.
A lot of people are nervous about Tyler since he missed so much rehearsal time while he was out filming Stomp The Yard 2. On top of that is the mounting tension between Emily and Tyler backstage.
Back in the dressing rooms, Anna comes in and blatantly asks Kayla what is going on between her and Ian. Kayla is taken by surprise and admits they've been texting and flirting. The others chime in that Ian is a player and that it is not just one other girl he's doing this with. Looks like Emily has some competition.
These kids need to put the drama on hold for a few hours because the time has finally come for opening night. But when it comes to high school, there is never a time to put the drama on hold.
Kayla talks to Ian backstage about the situation Anna approached her with. In typical Ian style, he laughs it off and says Emily isn't his "girlfriend," she's just a "lady friend." Riiiggghhhttt.
As everyone else prepares, Carlton comes to Anna's dressing room with a bouquet of roses. Cue the AWWS! She is blown away—I don't know how she can take him seriously with all that makeup, on though! Lighten up on the blush and eyeliner, Carlton.
In the boy's dressing room, Tyler tries to cloud out all the drama in his life and get in the zone. After spending so much time away, he is going to need every last bit of his energy to go solely into his performance.
And PLACES! It's a full house and nerves are riding high, especially for Carlton. He's calmed by the fact that Anna watches from the wing with a big smile on. He does great and sets the tone for a fantastic first act.
During intermission, Ian goes out into the audience to find Emily sitting with Adam and his friend, Kenny. Can you say awkward? Kenny and Adam leave them alone to flirt, but secure a spot at the back of the auditorium where they can easily spy. Ian denies the whole Kayla thing and Emily decides to trust him. NOO!
Time for act two. It's time for Tyler's big moment and everyone is on edge wondering if he'll pull it off. And pull it off he does! I'll admit, he definitely does not have the greatest voice in the world, but he puts on a great performance. Extra kudos to him for zoning out all the glares coming from Emily Silber and her friends.
After the show is over, the students waste no time in getting into Homecoming mode. Anna wants to go with Carlton but still hasn't answered him. After some final deliberation, she finally tells him she would love to go. Outside, Ian talks with his boys and I quote, "I am not a one woman guy." Oy vey.
It's the night of the dance and everyone gets ready with their friends. Turns out the only person flying solo tonight is Tyler (I honestly can't blame him for not wanting to have any strings attached tonight). As soon as the couples arrive to the dance, Ian runs off looking for girls to dance with. Good thing your date, Emily Sones, is standing RIGHT there.
Tyler decides this is the right moment to clear the air with Emily Silber and talk with her about why they broke up. He takes a very mature route and saying this is a time to focus on his career and his family. I agree with him completely, but a Homecoming dance is so not the right time to bring that up.
After ignoring Emily the entire night, Ian finally takes Emily outside to talk. Oh the words, "we need to talk." Never a good sign. He wants to just be friends because Ian is a free bird. A.K.A. Ian wants to be able to dirty dance with all the other girls and not have to worry about Emily glaring at him. What a jerk!
In the end, the only people who the dance is a success for is Carlton and Emily. Everyone else is either being a jerk dancing with random girls or crying in a corner. Happy Homecoming, guys!
Watch Taking The Stage on their new one hour time slot on Thursdays at 11/10c on MTV.
(Photo courtesy of MTV)
Follow Lindsay at twitter.com/LindsayStrouse