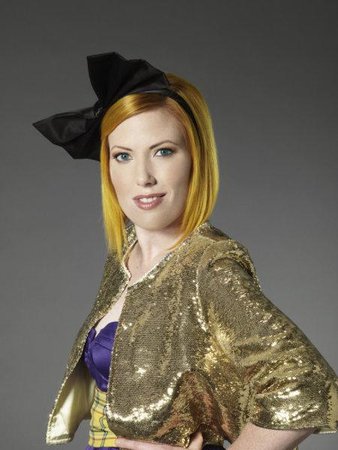 by Chandra Clewley
Brig Van Osten has been in the beauty industry for over 14 years. A native Californian, she runs P!ay Hair Lounge in Simi Valley. During this season, Brig started out as a bit of the "crazy" girl but slowly fans developed affection for her own personal style, her will to win, and her ability to antagonize the other stylists. Last night on the Shear Genius Season 3 finale, Brig won the competition. Today, Brig sat down with Reality Wanted and shared with us what it was like to go on the show.
Q. Chandra, Reality Wanted: Congratulations! You looked completely shocked!
A. Brig: I WAS shocked! Right now I am sitting in the Bravo offices is Rockefeller Center and a year ago I was trying out for the show again! It's starting to sink in slowly, it's crazy!
Q. Chandra, Reality Wanted: What made you go on the show in the first place?
A. Brig: I really loved what they were doing, the way they were showcasing hairdressers in the first season. I was a huge fan of Anthony's. I tried out for Season 2 and didn't get on the show. So, I tried out for Season 3 because I never give up and I got my roller skates into the salon.
Q. Chandra, Reality Wanted: Are you still in Simi Valley at P!ay?
A. Brig: I am 100% in P!ay Hair Lounge in Simi Valley. I have no intentions on opening a salon in LA, that is where I have my business for a reason and I love that community. I have other opportunities coming up and I am excited to see where this yellow brick road leads.
Q. Chandra, Reality Wanted: What did you think of the competition in that first initial meeting when you first got there? 
A. Brig: I was told that Bravo was looking for a gnarly cast with stacked resumes, tenacious stylists and people that all think they are going to win. They said to talk a big talk and let everyone know that I was going to win….all of a sudden I get there with 11 other people that are resume dropping and trying to establish themselves as the best, and all this talent.
Q. Chandra, Reality Wanted: How did you feel about the judging?
A. Brig: I knew I was going to go and be criticized. I don't have a problem with that, if I did I would wear jeans and a white shirt and not have yellow hair. I really welcomed it, I knew the judges had a lot more experience than I did and I was willing to learn and go on the journey. I really wanted to win. Once I got there I said "I'm going to win, I'm going to win" because if you put out what you want to achieve in life it helps. But when I would tell the other contestants that I was going to win, no one would push back and say "No, I'm going to win." They would just roll their eyes! 
Q. Chandra, Reality Wanted: Was the drama between yourself and Janine portrayed accurately?
A. Brig: Yeah, definitely. It was not a secret that we were not big fans of each other. I am not a suck up so I wasn't going to suck up to her and she said in the second episode that she wanted me out of there from Day 1. First impressions are not always accurate however Janine looked at me, looked at the bow and didn't like it.  I have met this type of girl all throughout my life, high school through my career and if they have a problem with me it's their problem, not mine and I am not going to fight back, I am going to let them wear themselves out on it. I welcome conversations with any of the cast now, we were in a competition and I was there to win not make friends.
Q. Chandra, Reality Wanted: Do you stay in contact with any of the other cast?
A. Brig: I do, I am in New York City right now and I saw April last night and Brian as well. Amy just had a baby! 
Q. Chandra, Reality Wanted: What are you doing moving forward?
A. Brig: I need the time to get my head around it. I used that show as a catalyst to get into people's living rooms. I am thankful for Bravo because I have a message to spread about being yourself and not following the trend or someone else's opinion of what you should be wearing today. I'm hoping to continue to inspire people in that way! 
(Image courtesy of Bravo)
Follow Chandra at twitter.com/ChandraClewley

For more Shear Genius links, visit SirLinksALot.net