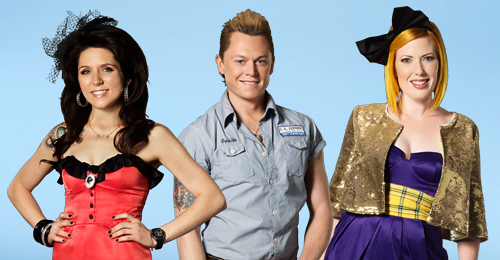 by Chandra Clewley
On the season finale of Shear Genius Season 3, Janine, Brig and Matthew are the final three. There is no short cut challenge so we start off with an introduction to Henry Duarte, a fashion designer known for his rocker looks. The stylists will style 6 models for his runway show.
Each stylist sits down with Henry Duarte. Janine wants strong lines, black vinyl, rock and roll but obscure. Matthew is looking for futuristic, with hard parted lines and a bondage feel. Brig is thinking futuristic too, but she has an idea for laminating hair extensions of a comic book superhero look.
The stylists are surprised to get 2 assistants for the final challenge, and will select from eliminated contestants. Brig has an advantage for winning last week's challenge and gets to pick her two assistants and then decide the order the other two are going to pick their assistants.
Brig picks Faatemah, only because she is such a contender that she doesn't want anyone else to have her, not because they are fans of each other. They are definitely not. She also picks April because of her Fashion Show experience. Brig gives Janine the next choice, and Janine picks Arzo first. Matthew picks Amy. Janine picks Jon which leaves Matthew with Brian by default.
They have 3 hours to prep for the next day. Matthew wants to do 2 bald caps and 2 Mohawks for sure. Janine is making the blonde's blonder and wrapping the models ends with bobby pins to get a jagged end. Brig, always playing the game, whispers to April not to let anyone in on her idea to laminate the hair, and will not tell Faatemah until she has to know what the plan is at every step.
On the final day the stylists have 3 ½ hours. Janine is delegating well. Brig says her team is "Operation Finale Win" and calls a meeting to let Faatemah in on the vision. Matthew thinks that he has seen Janine do the set she is doing already. Janine thinks that Matthew is going bigger than normal and she doesn't think it is going to work.
Brig is running out of time with her laminated hair. Henry Duarte comes in and seems to like all of the work, although he doesn't see the entire vision with Matthews. 
Brigs models come out first, with her plastic hair. Janine thinks it looks awesome and striking but she thinks that Brig should have done their hair instead of an art show or added pieces. Brig is 100% happy with hers.
Matthews is next, he is happy with the zipper Mohawks and tribal looks. Brig hates the skull caps. Janine thinks it is phenomenal.
Janine's all mirror each other. Matthew likes the big billowy look, but Brig doesn't like the chandelier quality to it.
At the judges table, Brig goes first.  Jonathan is seeing a lot of hats, he wants to know why she didn't incorporate the models hair. Kim thinks the colors are amazing and he has never seen anything like it before. Both Linda Wells and Camila think it is really innovative and artistic.
Matthew is next.  Linda Wells thinks the zippers are really fun, loved his last look and called it a "hot mess in the best possible way!" Kim wants to know about the bald cap and isn't' sure the story is all there. Jonathan likes everything. Camila loves what he did, but a little problem is the consistency.
As for Janine, she makes it a point to tell the judges that she did not add additional hair. Jonathan thinks the job was amazing and technical, but he would have likes to see more. Linda thinks there is a combination of elements, shiny and matter, edgy and beautiful etc. Camila thinks she has seen it too many times but she thinks it is beautiful. 
After the judges deliberate they bring the stylists back in. With Brig they loved her fashion forward technical looks. They loved Matthews 6 different looks. Janine's styles were well edited and well focused. Matthew is not the winner, and comes in third.
Brig ends up taking the win with her fashion forward, never seen before looks! Yay!
(Images courtesy of Bravo)
Follow Chandra at http://twitter.com/ChandraClewley
For more Shear Genius Season 3 visit SirLinksAlot.net