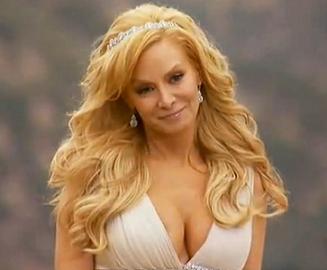 by Gina Scarpa
Last night, on the finale of Seducing Cindy, it came down to the final three men: Brian, Leighton, and Eric C. (our RealityWanted member who has made us proud)! Cindy will have one last romantic date with each of the men before she has to make a final decision, sending two home and asking one to share her life with her.
First up is Eric C. He reads her a beautiful love letter and that melts her heart from the minute he opens his mouth. The two start making out but are interrupted (and shocked) by Eric's parents, who want to meet Cindy and figure out how they feel about their 23 year old son dating a woman who is closer to their age, than his. You can imagine how awkward that might be, if your mom and dad just walked in on you gettin' hot and heavy with someone and that's exactly what it was. Cindy tried her best to convince the parental units that she was serious about their son and could see a future with him. Eric eventually kicked them out so he and Cindy could hit the hot tub and have some intimate time together.
Cindy's next date was with Brian and the two started things off with a horseback ride through the mountains. Her horse was a bit defiant and took off with her helplessly along for the ride, which made for some comedic moments but Brian was able to calm the horse and led them to a bench and a table with strawberries on it. Brian has no problem telling Cindy how he feels, that he can see a life with her, and the two really have a lot in common. I have to say that he was a bit overeager when kissing her but he must really want to get her alone. Alone alone. Without cameras. In a bed. Behind closed doors. You get the idea.
Leighton has the final date of the evening and if he ends up going home, it won't be without a fight. He feels that he has truly fallen in love with Cindy so he plans a date that she will remember for the rest of her life. Dressed handsomely in a tux, Leighton takes her on a helicopter ride to a hotel in L.A. that has a panoramic view of the entire city. When the moment is right, he pours his heart out, telling her that he wants to spend his life with her and gets down on one knee. I don't know who was more shocked, Cindy... or me!  This 24 year old, who once posed in Playboy, is ready to be a husband and a stepfather? I mean, stranger things have happened but still!
Cindy is so moved by Leighton's proposal that she gets down on the floor with him and asks him if this is really what he wants and of course, he says yes. Things move to the bedroom where, for a minute, it looks like the two might seal the deal but the date comes to an end with Cindy still on the fence about whether or not she wants to marry him.
Seducing Cindy ends where the show began, with Cindy standing on an altar, waiting to find the man of her dreams. The first one out of the limo is Brian. She tells him that he has been her rock and that he really seduced her when he said that he could look into her eyes forever, then coldly eliminates by him by telling him he'll have to look into somebody else's. Ouch!! Eric is next... and we all know how these dating shows work. The last one out is always the winner so it was time to say goodbye to our RealityWanted member. Cindy explains it simply: she's in love with another man.
That other man is Leighton. Cindy turns down his proposal (as she should) but tells him that she wants to start building a life with him and he happily accepts. How long do you think it will last?

(Image courtesy of Fox Reality)

Follow Gina at twitter.com/ginascarpa
For more Cindy Margolis links, visit SirLinksALot.net