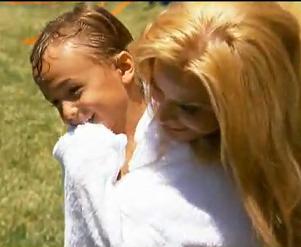 by Gina Scarpa
Last night, on Seducing Cindy, the guys are treated to a day at the spa following a very stressful elimination ceremony. Jeffrey James refuses to take the opportunity to relax and instead, decides to talk about himself the entire time. I'm still trying to figure out why Cindy has kept him around as long as she has. Cindy, explain it to me.
Set up in the back of the house/day spa is a massage table so that Cindy can spend some private time with some of the guys. Leighton is the first to go and gets a little bit more than a back rub on that table. Eric E.'s time is a little less romantic. Sure, he gets his massage but he also has to get his chest waxed but Cindy insists that he gets a makeover. He screams the entire time and I have to say, I'd rather watch this comedy show than him making out with Cindy. Yes, this is much better.
Cindy takes Kenny, Eric C. and Brian to the trendy restaurant, Dolce. In the group, Brian is obviously the most mature and takes a moment with Cindy alone to tell her how serious he is about having a life with her.
Meanwhile, at the house, Leighton and Eric E. score points by planning a fun party for Cindy and her son the next day. Jeffrey James is missing in action. Probably doing martial arts on top of a mountain somewhere.
Back to the date. I have to say, he may be young but Kenny just keeps scoring points with me. He seems totally sincere when he tells her that he left everything behind to come meet and fall for her. Oh wait, hold up a second. It seems our dear Kenny has been lying about his age. While spending time with Cindy, Eric C. reveals that Kenny is 23 just like him, instead of 24, which is how old Cindy thought he was. She seems really shocked and upset. I mean... 23... 23... When you're pushing 50, is there really any difference?
Cindy and her son, Nicholas, head to the house the next day for a playdate and party. Nicholas has the best quote of the episode when he asks his mother, "Are these college guys or adults?" Great question, kiddo. It seemed like Nicholas was gravitating towards Jeffrey James until he launched him into the deep end of the pool, which scared everyone just a bit. Who let this guy near a kid? Not surprisingly, Brian seems to be the most comfortable around Nicholas. After all, he has a 6 year old daughter of his own.
The next day, Cindy and some of the guys participate in a sexy photo shoot... at least, it was supposed to be sexy. As much as I like Eric E., I can't say that this pictures with Cindy were red hot. Then, there's Jeffrey James. I don't know what he was thinking but I promise you that nothing he did was sexy. Cindy summed it up by calling it awkward while I stared in horror at my television for two minutes. In what world is what he's doing sexy?  The only one that has a steamy session is Leighton (no surprise, he's a model).  In fact, it was so steamy that Cindy took him back to her bedroom afterwards. 
At the elimination ceremony, Cindy asks Eric C. to stay (our last RealityWanted member standing continues to represent!), along with Brian and Leighton.  That means Eric E., Kenny, and Jeffrey James are headed home.  I have to say I'm just bummed to see Kenny leave.  That's a good guy right there.  Props to Cindy for telling Jeffrey James that she doesn't believe his stories and wants him to leave.  He says he's too much man for Cindy to handle.  I'm going to borrow a quote that I heard on Survivor this past week to sum up my thoughts on this: "All mass, no class."

Seducing Cindy airs Saturdays at 9/8c on Fox Reality.
(Image courtesy of Fox Reality)

Follow Gina at twitter.com/ginascarpa
For more Cindy Margolis Links, visit SirLinksALot.net