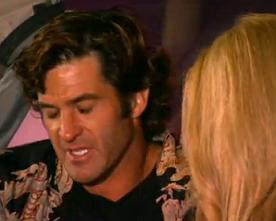 by Gina Scarpa
Last night, on Seducing Cindy, Christopher continues to be tortured in the house with Chris throwing a hot plate in his face. Not only is that not funny, it's dangerous! When Timmy left the house last week, I bet Christopher thought he was safe but he was wrong.
Feeling like she hasn't had much time with Kenny lately, Cindy takes him for a romantic night... eating fast food in the parking lot of a restaurant... and they make out in the backseat. For real. Ew, hamburger breath.
Back at the house, the guys get JJ (Jeffrey James) drunk and he shows off his ability to eat a banana in a way that well, might make some people question him. Then, he tells some crazy story about earning a purple heart while in the military and of course, no one believes. He shows his scar that he got under the attack and it seriously looks like he fell and bumped his knee on the stairs. Then, he finally admits that he's only on the show to promote some movie he's in and not to fall in love with Cindy. Duh.
Cindy takes the guys to her restaurant, Jerry's Famous Deli, where they work for her brother, Cory, to try to make a good impression on him and win the first challenge of the night. JJ immediately makes a horrible impression by telling Cindy he visited one of her restaurants and had one of the worst experiences of his life. She should've followed her instinct and eliminated him right there on the spot. Eric E. does really well with the customers and earns points with Cory.
After the guys are done working, they're given their second challenge: cook a delicious dish for Cindy. The winner will have their dish put on the menu and win a date with her. That's definitely a great prize! Chris makes a peanut butter and jelly sandwich with chocolate, sprinkles, and honey. He's 29 years old and should really start acting like it. That is something a five year old would make.
No one here is a cook, that's for sure. Brian and Leighton make fruit plates, but are able to score points with their genuine feelings for Cindy. JJ names his salad after himself (of course) and Cindy doesn't like his dish, but Cory sure does.
The two winners are Eric E., for his customer service skills, and Jeffrey James, for his dish. Cory hates that he picked JJ for the win because he can't stand him, but his dish was far and away the best. Fair's fair. For his date with Cindy, Eric E. shares strawberries with her during sunset. He scores points with her for showing her more of his romantic side.
At the house, Eric C. flips out on Jeffrey James and says he'll take him out in a fight in a second. Clearly, there's been some drinking here but no fight takes place.
On his date with Cindy, JJ tells Cindy the same story he was trying to tell the guys earlier, about the artillery strike that he faced when he was in the war with the Marines. He broke down and Cindy believed his tears were real so she did what anyone would do in that situation... she went from hating him and wanting to kick him out of the house to making out with him in a tent.
At the elimination ceremony, Cindy keeps Leighton, Brian, Kenny, Eric E., Eric C., and (ugh) Jeffrey James.  Those guys will move on to the next round and things will get a little more serious because they're going to meet her son.  Chris eliminates himself from the competition, after admitting to being addicted to porn and strippers.  Christopher is also sent home for his inability to seduce Cindy.  He has a big heart and is a good guy, though.  Hopefully, he'll find the right woman someday.

Seducing Cindy airs Saturdays at 9/8c on Fox Reality.
(Image courtesy of Fox Reality)

Follow Gina at twitter.com/ginascarpa
For more Cindy Margolis links, visit SirLinksALot.net