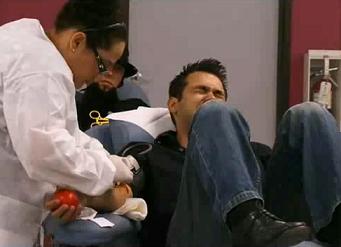 by Gina Scarpa
Last night, on Seducing Cindy, Christopher promised Timmy that, even though he may not end up being the last man standing, he'll be sure to send him home before he goes. Ooh, big words!
Cindy wants to know who is really here for the right reasons so she comes up with a plan to find out. First, she lies to the guys and tells them they're all headed to Vegas. Christopher is terrified of flying (he drove to Cali from Texas) but promises to overcome his fear for her.
By the way, nobody's going to Vegas.
While the guys double check to make sure they remembered everything, Cindy jumps into another car and puts a dummy in her place. A horrible car accident is stage, where the guys helplessly watch as the car they think Cindy is in tumbles down a hill. The guys are immediately brought back to the house, but they don't seem to be as freaked out as one would think they would be considering what they just witnessed. Well, none of them, that is, except Christopher who's hyperventilating.
Time to step it up a notch. Cindy gets covered in fake blood and is placed on a stretcher just as Kenny and Leighton reach the bottom of the hill to see what happened. The guys hit up the blood bank in order to give blood and "save" Cindy, except for Timmy, who freaked out under the pressure. First, he told a producer he wouldn't go out quietly and then began threatening the production staff. As you can imagine, he was quickly removed from the show. Another RealityWanted member bites the dust. At least we can all put our hopes and dreams on Eric C.
Let's step it up one more level. A doctor meets with the men to ask them if they would be okay if Cindy's face did not look the same or if they'd even be willing to donate a kidney.
Hold on a sec. What if a regular woman did this to a guy she just started dating to see if he loved her? How fast would he get a restraining order?
Back to reality... sort of...
Everyone says that they would donate a kidney to Cindy, which melts her heart. Jeffrey James struts into the room, says he was once a medic, and seems to know more about how the accident should've been handled than the doctor. In his interview, he calls out Cindy for staging the accident. Christopher manages to avoid passing out just in time to tell the doctor he'll donate the kidney here and now... which apparently makes him the winner of this twisted challenge.
His prize is Cindy in a sexy nurse outfit, waiting in an ambulance just for him. He doesn't seem too shocked that she's completely fine and just staged a car accident in order to find out who really has feelings for her. I'm pretty sure Christopher doesn't care because he's making out with the woman of his dreams right now.
At the elimination ceremony, an injury free Cindy walks into the room wearing a flowing, pink dress. One more twist tonight.  After making everyone sweat it out, she reveals that no one is headed home.
Anybody else hear the Psycho theme?

Seducing Cindy airs Saturdays at 9/8c on Fox Reality.
(Image courtesy of Fox Reality)
Follow Gina at twitter.com/ginascarpa
For more Cindy Margolis Links, visit SirLinksALot.net