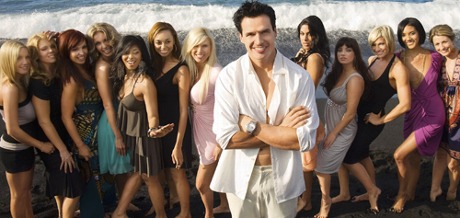 By Jackie Helm
Last night on "My Antonio", ex-wife Tully got treated to an impromptu date for being a big crybaby.  Due to her sobbing last week, Antonio took her on a surprise shoe shopping trip!  The two bought matching Ed Hardy sneakers and he gave Tully a gold necklace with a foot charm on it.  Tully stated that he loves her…er…feet.  Naturally, the other girls were ticked!  Materialistic Miranda commented that she wouldn't have been fond of tennis shoes and foot jewels anyway!
 
Later, the girls, Antonio and Momma sailed the ocean blue.  Antonio had a trick up his sleeve.  The girls had to paddle in a raft to shore and follow instructions that were buried in the sand.  Everyone but prissy, materialistic Miranda furiously dug through the sand to retrieve the hidden treasure.  Once uncovered, the treasure chest provided a "to-do" list and assisting supplies.  Antonio's instructions included that he would be back to get the girls in 24 hours.  Though shocked, most of the girls were ready to handle the situation.  But Miranda was bleeding with fury…literally.

Miranda
 
Task #1 - Write "Antonio" on the beach.  The girls did a great job using items of the land to spell his name, without the help of Miranda.  Task #2 - Build a shelter.  The girls did so and huddled together in survival mode.  Christi's chops weren't shy of complaints about being in the wild.  Task #3 – Make an article of clothing and wear it.  Tully bragged about loving nudity and covered her square shaped body with leaves.  Brooke is known for her very small chi-chi's and joked at how little coconut shells would cover them.  Suddenly, Antonio had the camera lights shut off and the ladies were left in complete darkness.  The girls gasped…for a second…then Antonio approached with a flashlight.  Hee-hee, ha- ha, he lied about leaving the girls outside all night long and took his little campers back home.
 
The next day the ladies lounged in the sun at the lagoon.  Antonio announced that Brooke smiled cheerfully during the beach activities; therefore, she won a spa date!  With that, Tania took Antonio to the side to cry him a river.  She didn't sense the closeness that she watches Antonio share with the other girls.  He sympathized with Tania but didn't deny or confirm her statement.

Brooke

Brooke got the date that all the girls were later jealous of.  Antonio kissed, rubbed and loved all over her bare body (with the private parts covered of course).  Later during convo, Brooke expressed concern over Antonio's uncertain career.  Sometimes actors have jobs and sometimes they don't.  Antonio reassured her that he's a go-getter and can handle his! 
 
During the elimination ceremony, Antonio skipped dinner once again.  He led the ladies to a fire pit that he claimed was burning at 1,200 degrees.  Master Fire Walkers briefed the girls on the procedure of walking over hot coals.  Antonio said that if the girls didn't complete the task for their man, they could take their tail on home.  As extreme as this may have seemed, the block of coals were barely 4 feet long.  I was really hoping for a daring task but I'd say the journey took about 3 seconds.
 
All of the girls accomplished the fire walk and this made Antonio have to eliminate someone himself.  He asked Brooke what her deal was and she barked that mess about not trusting an actor's salary.  But he kept her.  Whatever it was that he asked Tully prompted her to sing some silly sappiness AGAIN.  And again, the viewers, the competitors and momma heavily sighed while rolling our eyes.  Antonio told Miranda that she was fascinating but questioned how adaptable she was.  She claimed that if needed, she could be up and ready to go in 8 minutes.  Shaaa right! 
 
Antonio told Christi and Tania to step forward.  As she does, Christi started poppin' off at the mouth about being on the elimination block.  Unfortunately, he didn't shut her up and kick her off.  Antonio told Tania that he's lost that loving feeling and now she's gone, gone, gone.
 
Next week, Antonio's momma takes the girl's horse back riding.  Guess who gets hurt?  Attention starved Tully, of course!  However, it sounds serious as the doctor rushes to Antonio to report that Tully is bleeding internally!

(Photos courtesy of VH1)