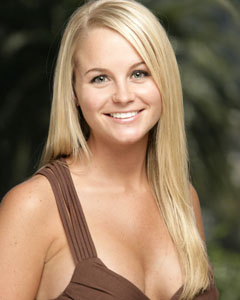 by David McAlpine
After 19 days in the Big Brother 11 house, she was the lone member of her clique. She was nominated more times than anyone was in the house, yet she still managed to make it to the end. Tonight, nearly two months later, Jordan Lloyd, the 22-year-old waitress from Matthews, North Carolina, walked out of the Big Brother house $500,000 richer.
The quirky, goofy pal of fan favorite Jeff Schroeder beat semifinalist Kevin Campbell in the tiebreaker during the live HoH competition, then evicted Kevin, making him the seventh member of the jury.
After an intense debate, Lydia, Jessie, Jeff and Michele all voted for Jordan, who also received America's vote. Russell and Kevin both voted for runner-up Natalie Martinez, who won $50,000.
In addition to the two finalists, Jeff won $25,000 for getting the majority viewer vote as "America's Favorite Player." According to host Julie Chen, "It wasn't even close"—I can believe that!
Stay tuned to RealityWanted.com for exclusive clips and interviews straight from the backyard of the Big Brother House!
(Image courtesy of CBS)

(Video Interview With Jordan Lloyd Live At The Finale)
Interview With Lydia Tavera Live At The Big Brother 11 Finale
Interview With Jeff Schroeder Live At The Big Brother 11 Finale

Interview With Kevin Campbell At The Big Brother 11 Finale

Jessie Godderz Live At The Big  Brother 11 Finale
Interview With Michelle Noonan Live At The Big Brother 11 Finale

Interview With Natalie Martinez Live At The Big Brother 11 Finale
Interview With Casey Turner Live At The Big Brother 11 Finale
Interview With Ronnie Talbott Live At The Big Brother 11 Finale
Interview With Laura Crosby Live At The Big Brother 11 Finale
Interview With Braden Bacha Live At The Big Brother 11 Finale
For more Big Brother 11 Links visit Sirlinksalot.net