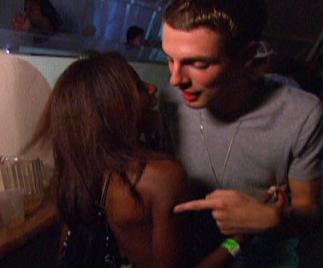 by Gina Scarpa
Tonight, on The Real World: Cancun, it's Peak Week in Mexico.  That's when every college student on the earth heads south of the border and gets annihilated for seven days straight.  That means that the roomies will have to be on point when at work with Student City.  Joey works day shifts and is asked to pick up an extra breakfast shift because he screwed up and slacked off at work.  Though everyone's supposed to be working hard, it seems like most people are only concerned with gettin' some.
Bronne, who actually DOES a lot of work, found time for play too with Playboy model, Vicky.  Joey brings home a girl of his own, of course, and has sex with her while Derek is in the next bed.  Jasmine decides that tonight is the night that she'll sleep with Pat, another Student City employee, but he clearly isn't on board with the plan.  At the house, she just decides to go for it and straddles him on her bed.  I suppose she couldn't make it any clearer.  He pushes her off him then shoves a pillow in her face when she tries to kiss him.  He says he wants to get to know her better but umm… I think we all know he's just trying to be nice about rejecting her.
Well, if you thought she'd take it well, you're wrong.  The next morning, Jasmine just screams all over the house and literally breaks things in her anger over the situation.  When Pat comes over to the house for a haircut from Jonna, Jasmine is jealous and when she spots them at the club taking pictures together and flirting, she gives them death looks all night.  If Pat doesn't look out, there could be a bunny boiling on his stove in the not too distant future courtesy of Crazy McGee over there.
The band LMFAO comes into town to perform and the Real Worlders take good care of them.  Not only do they make sure that everything goes well for their performance, but they invite them back to the house for a night of fun.  Joey stays up late enjoying his time with the band and asks CJ to set his alarm the next morning for his breakfast shift.  For some reason, the alarm doesn't go off and when he rolls out of bed at 9:45am, we all know it's not good.  Christina, his boss at Student City, has had enough of his antics and comes over to the house to not only fire him, but give him a plane ticket home.
If Joey was another kind of person, he'd apologize profusely, beg to stay in Cancun, and maybe shed a tear or two in order to gain some sympathy… but this is Joey we're talking about here.  Instead, he acts like he doesn't care and tells Christina he doesn't even want to talk to her.  Before he knows it, it's time to leave and he heads home without even saying goodbye to everyone.  If the experience didn't mean so much to him, why even go in the first place?
Question to think about: If you could give one good slap to one of the roomies, would you use it on Joey or Ayiiia?  I'd give mine to Ayiiia a thousand times over. 
The Real World: Cancun airs Wednesday nights at 10pm ET on MTV.
(Image courtesy of MTV)