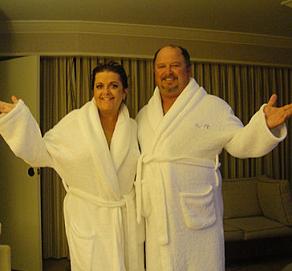 by Gina Scarpa
Tonight, on The Great American Road Trip, the final three teams continue down Route 66 and RealityWanted is proud to say that its very own member Amie Pollard and her family are still in the competition!  The first stop is the Roadkill Café in Seligman, AZ.  I shall pass on anything off of that menu, thank you very much.  Amy DiSalvatore has had quite enough of being in the RV with her all male, Italian family, so she takes a break and rides with the Pollards.  Meanwhile, the Cootes get their RV stuck underneath an overpass at the gas station.  It's amazing that they didn't do any damage.
The next stop is the famous Hoover Dam but when the families arrive, Reno is waiting for them.  That means it's time for the King of the Road challenge.  Teams will have to use pipes to send water through and spin a turbine which will pop up a giant Uncle Sam.  The team that completes the task in the shortest amount of time wins.  Don't ask me how they do it but the Cootes won again and haven't lost one challenge yet.  It's getting a bit ridiculous. 
Wait, time out.  No End of the Road challenge.  No one is going home.  Instead, everyone's going to Vegas.  Is Vegas fun with kids?  Where do you leave 'em when you wanna gamble?  Kidding, kidding…
The families meet up with Reno in a theater, who introduces Penn and Teller to them.  They make the dads disappear in a magic trick.  Reno reveals that they're hiding somewhere in Vegas and it's up to the families to find them.  The first team to find their dad will get an overnight stay in a luxurious hotel. YAY for the Pollards, who figure out the clues, run all over Vegas, and find their dad first.  They also receive $500 to spend during their stay.
The Pollards invite everyone to enjoy their stay in the hotel room and the Cootes decline.  Int he parking lot, the kids cry because they lost a challenge.  Oof, bratty kids.  The DiSalvatores show up though and week after week, they win me over a little bit more.  DiSalvatores on three!
The Great American Road Trip airs Monday nights at 8pm ET on NBC.
(Image courtesy of NBC)
For more The Great American Road Trip Links visit Sirlinksalot.net