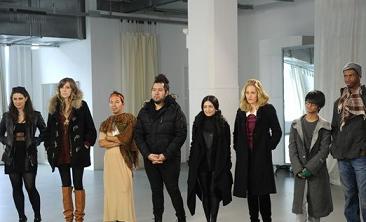 by Gina Scarpa
On tonight's episode of The Fashion Show, the contestants find out that they're going to be paired up for their next challenge.  I can see them cringing now!  The pairs are: Merlin and Johnny, Lidia and James-Paul, Anna and Haven, and of course, Reco and Daniella.  In this mini challenge, they'll have to help a Harper's Bazaar employee look appropriate for work after being out all night without stopping home.  The winner will not receive immunity but they will get an advantage in the elimination challenge.  They're only gonna have 30 minutes to pull this off.  Work your magic, designers! 
Though Johnny was initially concerned about working with Merlin, the judges love what they did with their model.  Laura Brown doesn't feel that Haven and Anna did enough to change up the outfit they were given.  Though the judges think Lidia and James-Paul were lucky with the clothing they found for their model, they still liked what they put together.  Daniella is no fan of what Reco came up with for their model but the same can't be said for Laura and the others.  Johnny and Merlin end up winning, which warms my heart because I'd throw that outfit on in a hot second.
When Kelly says that, for their elimination challenge, they're going to have to work for one of the biggest names in the fashion industry, it's clear who it's going to be: Isaac Mizrahi.  They'll have to design a complete look for his upcoming collection and they'll have to stay in their pairs.  Johnny and Merlin, as part of their prize, get five minutes with Isaac to brainstorm and trade ideas.  Can't beat that!
Daniella and Reco attempt to put their differences aside in the name of competition.  They are two of the strongest designers so expectations will surely be high.  Of course, that peace treaty only lasted about five seconds before they were at each other's throats.    Both Reco and Merlin decide to let their partners take the lead, that way, if they crash and burn, they can blame someone else.  Real brave.  Going into the fashion show, none of the designers seem confident about what they're about to put in front of an audience full of industry professionals and the judges.
Reco and Daniella are up first and I can see why he wasn't totally on board with the pants look.  Isaac seems to like it, though.  The outfit Lidia and James-Paul designed looks like it doesn't fit their model properly.  Haven and Anna seem to do a good job bringing Isaac's vision to the runway.  Johnny and Merlin are up last and the entire ensemble is pretty loud so I think it's going to come down to a matter of taste.
At panel, Isaac expresses how happy he is with everyone's work, which would be good news if there wasn't an impending elimination.  The top designs go to Johnny and Merlin as well as Haven and Anna.  Johnny and Merlin get a big compliment from guest judge Veronica Webb, who says she'd be proud to wear their design on the runway.  The judges decide, however, that Haven and Anna are the winners of this challenge.  A version of their design is now available for purchase on Bravo's website.
James-Paul and Lidia get slammed when they find out an audience member called their outfit a cheap, mermaid costume.  Veronica Webb backs me up when she points out that the dress is not flattering on the model at all.  An audience member calls Daniella's and Reco's pants "granny PJs" and ¾ of them said they would not buy his outfit.  The pair immediately starts attempting to throw each other under the bus in order to save themselves.  Are you surprised?   In the end, it's Lidia who is sent home for her ill fitting design.  Though embarrassed, she vows to move on from her, saying that she's a strong person and a fighter.  I don't doubt it.

The Fashion Show airs Thursday nights at 10pm ET on Bravo.
(Image courtesy of Bravo)
For more Fashion Show Links visit Sirlinksalot.net