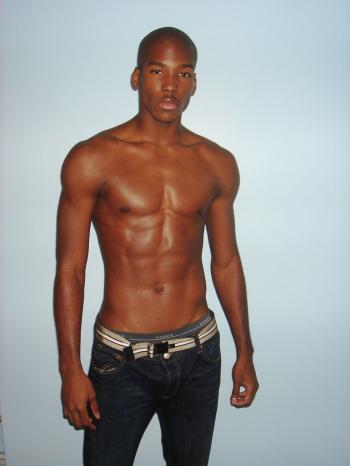 by Gina Scarpa
For RealityWanted members who are looking for a little inspiration when it comes to getting on their favorite reality shows, look no further than Make Me A Supermodel's Sandhurst Tacama Miggins.  Sandhurst applied to the second season of the show through RealityWanted's site.  Not only was he cast on the show, he sailed through the competition, making it all the way to the finale.  Unfortunately, Sandhurst ended Make Me A Supermodel 2 with the consolation prize of being the runner-up but this aspiring model has no bitter feelings and feels that things can only go up from here.  Today, he spoke to RealityWanted in an exclusive interview about how the site helped him accomplish his goal and where he goes from here!
Q. Gina, RealityWanted: Tell us about your involvement with RealityWanted and how the site helped you get on Make Me A Supermodel.
A. Sandhurst: I was in New York, trying to get signed with a modeling agency. I went to NY Model Management and they told me, "No, thanks for coming." As I was walking out, I saw a bus with a Make Me A Supermodel billboard on the side. I decided to do some research and this was for the first season. I went online and typed it in and RealityWanted came up. I started researching RealityWanted and they were doing interviews with the castoffs. I kept reading it every week and it got me so excited, so pumped, about the show. I was like, "Okay, if they do a second season, I'm going to try an audition for it!" I kept staying on RealityWanted and looking through all the casting calls. I didn't want to apply for everything because I had read some tips that said you shouldn't apply for everything, you should be specific. I was waiting for the modeling shows to come out. Lo and behold, in July, you put up a casting notice and I applied.
Q. Gina, RealityWanted: How did it feel when you finally got onto the show?
A. Sandhurst: Oh my goodness! I was so excited to make it. You have no idea! It's big, you know? There were probably 7 or 8 rounds of cuts before we got to the final 16. It was a major accomplishment to make it out of thousands of people, to be 1 of 16.
Q. Gina, RealityWanted: Based on your first impressions this season, who did you think would be your biggest competition?
A. Sandhurst: I thought Colin and Jonathan would be my biggest competition. Colin was actually at my open call and when I first saw him, I thought he was already an established model who was there to help out and be an inspiration to us. When we started going through the process and I realized he was in the competition as well, I was like, "Oh my God!" Jonathan…when we had to take off our shirts and be in our underwear, I realized that he had one of the best bodies in the competition.
Q. Gina, RealityWanted: What was the toughest part of the competition for you?
A. Sandhurst: The one thing was the weather. We filmed in the late fall/early winter period so it was cold. I don't do well with cold at all! I'm from a Caribbean island! When we had to do the bathing suit shoot on the beach, mentally, I had shut down. My body was rebelling. It was a horrible experience.
Q. Gina, RealityWanted: Going into the finale, how confident were you that you would be able to win?
A. Sandhurst: I'll be very honest. I thought you had it. I seriously thought I had it just based on the mere fact that I had tied with Jonathan for the most weekly wins. I was in the top three 11 out of 13 times. That's a major accomplishment to be at the top that many times. Throughout each genre, the judges thought that I was one of the best. I thought I would've won but everything works out how it does and I'm not bitter. I'm not angry. Branden definitely delivered a strong performance that last week.
Q. Gina, RealityWanted: When Jonathan was eliminated first last night, my jaw was on the floor! How surprised were you?
A. Sandhurst: I was so surprised! Everyone on set thought it was going to be between Jonathan and I. The models even thought that from week 2. Colin had said that the models felt that 2 of the final 3 spots were already predetermined and everyone was fighting for that last spot.
Q. Gina, RealityWanted: What does the future hold for you now?
A. Sandhurst: That's a good question! As of right now, because we have to go back to our regular lives, I have to go back to being a student. I'm trying to finish up my final few weeks of school so I can move to New York and pursue modeling. At the same time, I'm keeping my mind open to other opportunities, whether that is television, movies, hosting, or whatever.
Q. Gina, RealityWanted: Best of luck, Sandhurst! We are all so happy for you.
A. Sandhurst: Thank you and thank you for RealityWanted, it changed my life!
Visit his profile here
For more Make Me A Supermodel Links visit Sirlinksalot.net