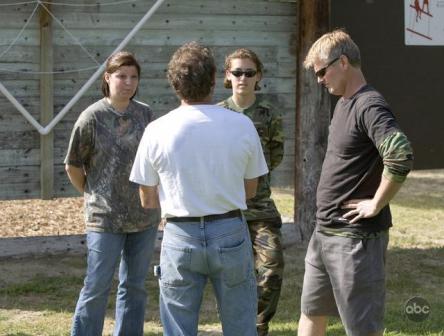 "Melton/Dufrene" - - A woman whose family subsists on the Louisiana swamp swaps lives with a ballerina accustomed to cultured refinement, on "Wife Swap," FRIDAY, OCTOBER 24 (8:00-9:00 p.m., ET) on the ABC Television Network. Each week from across the country, two very different families take part in a two-week long challenge: The wives exchange husbands, children and lives (but not bedrooms) to discover just what it's like to live in another woman's shoes. It's a mind-blowing experiment that often ends up changing lives forever.
Brandi Dufrene (29) and husband Pookie (33) run airboat tours on the Bayou, while their three boys, Dalen (11), Gavin (8) and Zane (4), run wild in the swamp - - fishin', huntin' and froggin' - and treading a trail of mud into the Dufrene home. Brandi is fighting a losing battle as the only girl in a house of Cajun wildmen. The boys use her makeup as warpaint and leave muddy socks all around the yard. Husband Pookie is no help, egging his boys on to more mischief and leaving Brandi to cope with all the chores and discipline.
Brandi gets a taste of life outside the swamp when she travels to the home of the Melton family in California. Wife Monique (43) and husband Mike (49) are classically trained ballet dancers, and son Jake (12) has been following in their footsteps since the tender age of three. Monique and Mike are raising their son to appreciate the finer things in life, taking him to operas, art galleries and wine and cheese parties. As performers, all three Meltons take extreme care of their appearance, and both Mike and Monique always make sure Jake looks his best.
In the first week of the swap Brandi trades her swamp clothes for a dress, as she hosts a soirŽe for the Meltons' sophisticated wine and cheese crowd. Meanwhile Monique messes up her manicure as she pulls frogs out of the swamp and picks up the boys' muddy socks. In the second week, when the wives change the rules. Brandi holds a "mantervention" to toughen up Mike and Jake, while Monique introduces the wild Dufrene boys to ballet, opera, manners and chores.
 
When the couples are reunited, will Monique learn to let Jake be his own boy? Will Brandi be able to tame her ragin' Cajuns?
"Wife Swap" is an RDF USA production. It was created by Stephen Lambert and is executive-produced by Mike Gamson, Stef Wagstaffe and Michael Davies of Embassy Row ("Who Wants to be a Millionare"). Stephen Pettinger, Neil Regan, Julie Cooper and Will Nothacker are co-executive producers. "Wife Swap" is broadcast with Spanish subtitles via secondary closed captioning. This program carries a TV-PG,L parental guideline.
(Photo courtesy of ABC)
Want To Be on WifeSwap? Apply Now by clicking HERE!