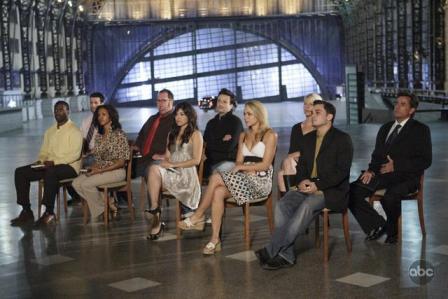 Her spunkiness couldn't save Liz Cain of Whitefish, MT, from being the second player "Executed" on "The Mole" at the end of last night's episode. The third episode airs MONDAY, JUNE 16 (10:00-11:00 p.m., ET) on the ABC Television Network. Jon Kelley ("Extra," "The National Sports Report," "Baseball Today") is host.

In the new hour, "Episode 503," the players roam through the streets of Santiago in their underwear, begging for clothes -- for Ali, Kristen and Victoria, their highlight was getting marriage proposals from whistling workers. And -- big surprise -- Paul picks a fight at the dinner table.

The 10 players remaining on "The Mole" are:
Alex (Haverford, PA)
Ali (St. Louis, MO)
Bobby (Philadelphia, PA)
Clay (Philadelphia, PA)
Craig (San Diego, CA)
Kristen (Santa Monica, CA)
Mark (Mukwonago, WI)
Nicole (Chicago, IL)
Paul (Yonkers, NY)
Victoria (Bishop, TX)

LIZ CAIN
The Spunky Grandma
Age: 60
Occupation: Retired
Education: Associate's Degree, New Mexico Tech.

Liz has more energy than people half her age. She lives life to the fullest and does not let age stand in her way and doesn't hesitate to shock people with her raunchy sense of humor.  Liz is a widow. When her husband passed away, she decided to adopt two children and raise them on her own.  She has an 18-year-old daughter, a senior in high school, and a 20-year-old son in the army who recently gave her a grandchild. Her son may be deployed to Iraq at any time.  She suffers a bit from an empty nest, so she was eager to have this adventure bring some excitement into her life.

"The Mole," based on the hit Belgian format, is produced by Stone & Company Entertainment and follows a group of players as they try to figure out who among them is The Mole, a saboteur trying to keep them from winning money. Players must decide who they think The Mole is and then learn as much about him or her as they can because, at the end of each one-hour episode, the player who knows the least about The Mole is immediately "Executed" from the game. In the final dramatic episode, The Mole is revealed and one of two final players can win up to $500,000.